The city of Bristol has a proud tradition in the world of football, and while they have not ever really provided any of the teams in the British football sphere, the professional sides hailing from Bristol have a staunch and passionate following. In this Bristol football teams guide, we will look at the professional sides in Bristol, which team is the most successful, the major rivalries and more.
Championship
Only one side that hails from Bristol currently ply their trade in the Championship, with England's second tier proving to be a tough place for our first team to rise out of.
Bristol City
Established in 1894, Bristol City Football Club are the biggest side to call Bristol their home. The 27,000 seat Asthon Gate stadium is where they play their home games, with City often roared on by a huge crowd.
Titles & Trophies
While City claim to be the best football side in the area, they have not been the most prolific outfit when it comes to winning trophies. Their best ever finish in the league format came when they ended the 1906/07 First Division season as runners-up. This was the closest they have ever been to winning the top league in England, and they have been a long way short ever since. Away from the top division, they have been champions in the second division once, while they have been the winners of the third division four times, with the most recent of these coming in the 2014/15 season.
In cup competitions, they have been able to perform slightly better. A runners-up spot in the 1909 FA Cup was their best run in the competition. City have been semi-finalists in the League Cup three times, including in the 2017/18 season, while they have been Football League Trophy winners on three occasions.
Bristol also claimed the 1933/34 Welsh Cup despite being an English side, while they won the Anglo-Scottish Cup in 1977/78. While their trophy winning haul does not include any major silverware, they have still had their hands on their fair share of trophies.
Lower Tier Struggles
As mentioned, Bristol City's best ever finish in the league came when they finished as runners-up back in the 1906/07 season. To say it has been a while since City excelled in the league would be an understatement. In fact, City have not been in the top tier of English football since their stay between 1976 and 1980. This means that City are yet to actually play in the Premier League.
Since then, they have floated between the second, third and fourth divisions. Unfortunately for City, they spend a lot of time in League One between 1999 and 2007 before eventually gaining promotion to the Championship. However, their stay in the Championship was one that did not bring fruit, with their stint between 2007 and 2013 only ending in relegation back to League One.
Two years in League One did eventually end with promotion to the Championship in 2015, but they have been there ever since, and missing out on the Premier League seems set to continue for the foreseeable future. In fact, City finished the 2021/22 season in 17th in the league with 55 points from 46 games. This means they were closer to the bottom of the table (25 points away) than they were to the top (35 points away).
This points tally was an improvement from their 2020/21 season, where they picked up 51 points, but they are still someway short of actually battling for promotion. Ultimately, while Bristol City are the best side in the Bristol, they are nowhere near the best sides in the Championship.
League One
Unfortunately for the next professional side from Bristol, they are someway short of their arch-rivals in the league structure, and this has seen the two sets of fans deprived of their derby each season unless they meet in cup competition.
Bristol Rovers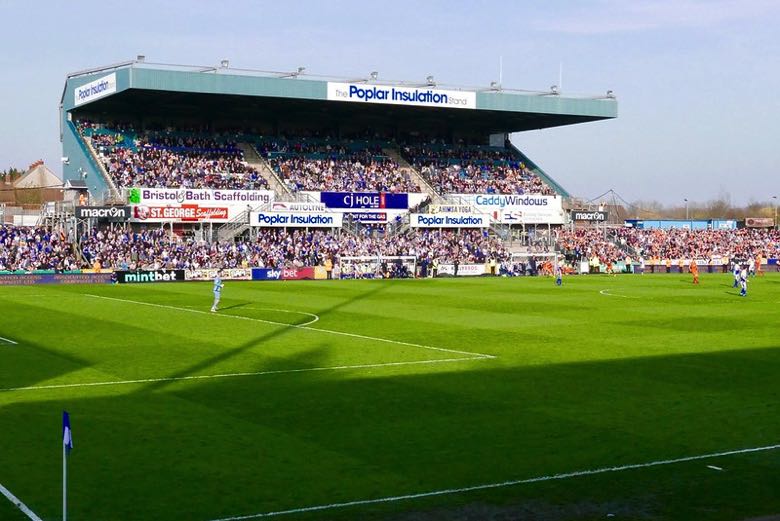 League One's Bristol Rovers are the next side on our list. Bristol Rovers were founded in 1883, making them over 10 years older than City. Rovers play at the Memorial Stadium, which has a capacity of 11,000. Despite the fact that Rovers come with an ardent following behind them, they have struggled in the lower leagues of the football pyramid for some time. Their 2021/22 season has seen them rise back up to League One, but questions remain over how well they will fare in the higher leagues.
Titles & Trophies
Bristol Rovers have been the champions in the Southern League Division One, Football League Third Division South, Football League Third Division, Football League Two play-offs, and the Conference Premier play-offs. None of the trophies they have picked up will see them held in the same regard as the top sides in England though. Their inability to climb to the top of the English football pyramid is clear, and this means that they have not won any trophies of note.
As for cup competitions, Rovers have won the Football League Third Division South Cup, the Watney Cup and they have been runners-up in the Football League Trophy twice. One cup they excelled in is the Gloucestershire Cup, which they won a massive 32 times.
Trials & Tribulations
Unfortunately for Bristol Rovers, they are a long way below their major rivals, with the side struggling in League Two for some time, unable to rise up the ladder. However, the 2021/22 season ended with a real glimmer of hope as Rovers were promoted from League Two. The season saw Bristol Rovers secure 23 wins in 46 matches, with their 80 points enough to see them finish in third in the league. Now, Rovers will look to be in and out of League One as quickly as possible, although this is far easier said than done.
They will face a stern test in England's third tier with some former-Premier League outfits plying their trade in the competition now. Rovers will be rewarded with the return of their derby if they are to gain promotion from League One, with their clashes with Bristol City likely to end in pulsating battles that bring the city to a standstill.
Which Is the Most Successful Team in Bristol?
With only two professional sides in Bristol, this one will come down to a battle between old rivals Bristol City and Bristol Rovers, although don't expect much when it comes to major trophies for these two.
| Competition | Bristol City | Bristol Rovers |
| --- | --- | --- |
| First Division | 0 | 0 |
| Second Division | 1 | 0 |
| FA Cup | 0 | 0 |
| League Cup | 0 | 0 |
| Football League Trophy | 3 | 0 |
| Total Trophies | 4 | 0 |
*Stats correct as of May 2022
Unfortunately for fans of either Bristol based club, neither has had any luck when it comes to major trophies. Between the pair there are no Premier League titles, Champions League crowns or Europa League medals. Instead, the two have picked up four 'major' trophies between them.
All of these triumphs have been for City, who are undoubtedly the best team in Bristol. Bristol City are currently the closest to ending this long wait for a major trophy as they sit in the Championship, but few would really back them to make it out of the second tier of English football considering their results across the last few seasons. For Rovers, major trophies will likely remain a long way out of their reach for the foreseeable future.
Which Is the Biggest Rivalry in Bristol?
Once again, there are no prizes for guessing which the biggest rivalry in Bristol is. Bristol City and Bristol Rovers have a fierce rivalry that always draws the attention of the entire city whenever they are able to play. The sides have met 105 times across their history, with the first such encounter in 1897. City lead with a total of 43 wins. However, as mentioned, the two sides do not play in the same league and have been kept apart since the start of the 2001/02 season.
Since that time, the teams have played one-another three times. Two matches came in the two-legged southern final of the 2006/07 Football League Trophy, which Rovers won 1-0 on aggregate. After that came a 2013/14 Johnstone's Paint Trophy game, which City claimed a 2-1 victory at Ashton Gate.
Battles between the pair usually end in thrilling battles as the sides look to take home the bragging rights, and it is a shame the teams are not currently in the same league. For City, they do have a few notable rivalries that have grown due to their lack of matches against Rovers. These include games against fellow-Championship sides Swansea and Cardiff, with the Welsh clubs entering into a bitter feud with City. For fans of both Bristol City and Rovers, the hope is that their derby will return as soon as possible.