Betting on football is a pursuit that has been around for decades, with many bookmakers now household names in the UK – you've probably seen their ads at your local stadium or on TV. But what about new football betting sites? Believe it or not, there's still new firms coming along each month that want to break into the industry. Some will fail, but some will succeed – especially those that offer something a little bit different to the norm.
The good news for those that fancy a flutter on the football is that bookmakers have to find new and often innovative ways to attract punters to their website and app – it could be features that aren't available elsewhere or, quite simply, the most competitive odds.
Either way, punters can benefit from a wide range of choice – cherry-picking the betting apps that most appeal to their needs. While we should welcome new football betting sites and the positive impact they have on the wagering game, we should also be mindful that not all new firms are to be trusted. Later on in this article, we'll explore why and how you can spot the red flags of a potential dodgy bookie.
What Is the Difference Between New & Established Betting Sites?
As mentioned, some bookmaking brands have been taking bets from UK based punters for years. They have a well-established customer base and are million-pound (at least) companies that have a firm footing in the industry. But every year, new betting sites come along that challenge the status quo. Why are they new? Perhaps they're a start-up company that has come up with a unique new idea or product. Maybe an established brand in another sector has decided to make a move into sports betting. Perhaps the new site has already enjoyed success in an overseas market like Europe or Asia, and now they have been granted a licence to operate on UK soil.
When a new betting site does launch, there is often a feeling of distrust or scepticism from the punting public. Who is behind the new site? Why are they only launching now? Is it a scam? The best approach to take when a new football betting site launches is one of inquisitive open-mindedness. The answers to the questions above may be readily available, with a simple explanation as to why the brand is only being launched in the UK market now. Remember, there are plenty of perks to joining a new football betting site – more on those shortly. But as we'll also discover, there's reasons why it pays to be diligent when researching any new bookmaker that comes along.
What Are the Different Types of Betting Site?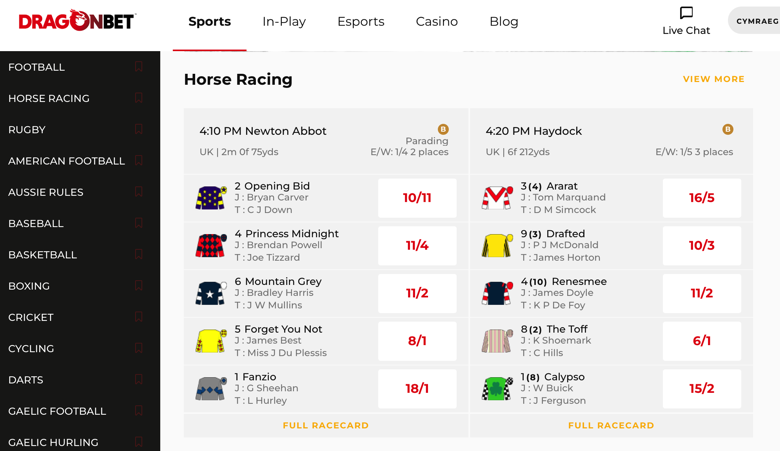 There are a couple of different ways in which a new betting site can be launched.
'Off the Shelf'
Those backed by founders with deep pockets can simply launch as a new product 'off the shelf', delivering betting odds to punters via a website or app in either a traditional or innovative way. This is the most common method when a rich entrepreneur wants their slice of the betting industry, or where an established brand in another field makes a leap into sports betting for the first time.
'White Label'
Other platforms opt for the 'white label' approach. This is where a bookmaker – typically a new market entrant on a tighter budget – will use pre-built software to power their betting site and/or app. Think of it almost like a McDonald's franchise chain, where the shop manager effectively buys the fast food giant's intellectual property, name and branding.
This helps to explain why some of the smaller betting firms have website and apps that tend to look very similar to those of their competitors, albeit with a few minor tweaks and a different colour palette. But even major, established brands use white label software – they just have the resources at their disposal to customise how their platform looks to give it that unique feel.
Sometimes, white label bookmakers use generic odds compilation too – this is why some of the 'soft' books often have the best prices on key markets like Premier League football. They lower their margin in a bid to attract new customers with competitive odds for the most popular betting events and categories. Other bookmakers don't have the in-house expertise to facilitate live streaming, for example, and so they outsource that to a third party provider as well.
White label firms tend to benefit from a time-served payments platform, so at least you can expect instant deposits and speedy withdrawals – sometimes, this can be more efficient that 'in house' payment processing from bookmakers that are, shall we say, in no rush to process withdrawal requests.
Is Your Money Safe with a New Betting Site?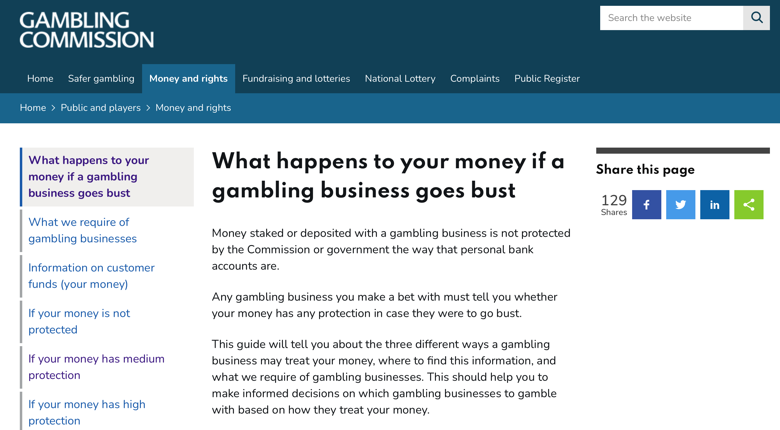 It's only natural for a punter to have some reservations about joining a new betting site – how do you know, for instance, if your money is safe with them? If a bookmaker has been granted a UK gambling licence, you know that this is a firm that has the capability of satisfying the regulator's requirements – that at least offers some assurances, but it's far from a given that your money is protected even when held in an account with a licensed bookmaker.
Happily, you can minimise your potential risk by researching in advance whether your money is protected in the worse case scenario: that the online betting site goes bust altogether. There are three levels of protection, which for the most part are self-explanatory:
High Protection
Medium Protection
No Protection
You can actually find out which tier each bookmaker belongs to in their terms and conditions, which while boring to read will actually reveal the football betting sites you can trust and which you should avoid.
With high protection bookmakers, you can reasonably expect to get your money back if they go bust – although that's not 100% for certain. With medium protection sites, there's a chance you'll get your money back; however, this could be governed by how much of an insurance payout the operator gets as opposed to how much they are holding in segregated funds. As for betting sites with no protection, well, you can probably guess the rest. Your deposit goes straight into the firm's main bank account – rather than being held separately – and so if they go bust the chances of you recouping those funds are slim to zero.
You might think that the chances of a betting site going bust are slim – but it has happened before, and in the case of MoPlay, customers were left out of pocket, as they were unfortunately a 'no protection' bookmaker. At our last check, around 25% of betting sites featured on Oddschecker's grid offered no financial protection to their customers – it really does pay to do your homework before acting in haste to sign up for an account.
What Are the Advantages of Joining a New Betting Site?
If you are planning on joining a new betting site, there's no harm in taking a look at the latest brands to enter the market – as long as they have the financial protection outlined in the previous section of this guide. The idea is to find the bookmaker that ticks as many of your boxes as possible. That's unique to each punter, of course, but there are some common features that identify the best new betting sites in the game.
Sign-Up Offers & Bonus Bets
The absolute vast majority of betting sites, new and old, will offer you some kind of inducement to sign up for an account. It could be a bonus on your first deposit or a haul of bonus bets when you wager a certain amount, but the key thing to remember here is that any sign-up offer you claim from a bookmaker should add genuine value to your betting – rather than being a token gesture.
Consider which are your favourite betting markets to wager on and how you bet each weekend. You can tailor your search for a new site to join based upon which operator is offering the most relevant sign-up bonus for your requirements.
Features Galore
There are so many features delivered by betting sites these days – some are decades old, whereas others are still relatively new. The majority of betting sites offer live odds for football games and other sports, but some firms have taken the experience to a whole new level with the addition of live streaming. Okay, so you're never going to be able to watch Premier League or Championship football via a betting site – the broadcast rights belong to media outlets like Sky Sports, but did you know that you can watch action from the likes of La Liga, Serie A and the Bundesliga using your betting account?
Another noteworthy feature is cash out. We could write thousands of words on scenarios when to cash out live bets and when not to, but ultimately, the decision is yours. However, it's nice to know that you can cash out when you want to lock in a net win or hedge your losses, so this is a feature that your chosen betting site should offer.
One of the more recent developments in football betting has been the launch of bet builder tools. These let you combine multiple legs from a single game into one bet – e.g. Arsenal to win, over 2.5 goals and over 8.5 corners. If you consider yourself a strong analyst of the beautiful game, these custom multiple bets could prove a rewarding avenue for you to explore.
All the Bet Types
Remember when we spoke about white label betting sites earlier? One of the issues of this approach is that it can create a uniformity amongst bookmakers – the same bet types, the same odds, the same features and so on. This is why you should explore a football betting site first hand before taking the plunge. Click on their football option, select a game at random and see which bet types they offer – these days, at least 75 for a standard Premier League game should be the bare minimum.
One of the more recent developments in football betting has been the introduction of 'player prop' style markets – similar to those offered in America on NFL and NBA games. At some betting sites, you can wager on options like player shots, passes and tackles, which is an extension of the more traditional football bets offered.
Mobile Betting
It goes without saying that a rather large number of punters access their preferred betting site on their smartphone or tablet. But these mobile sites are not built equally. Some are simply a re-sized version of a desktop betting site – therefore, they look terrible on smaller screened devices, or maybe the tabs and headers are so small they are tap on precisely.
Our preference is for betting sites that have evidently put some care and attention into their mobile version. You can tell from the moment you load up mobile browser sites which have been purposely designed and which have been left to chance, so if you plan on betting on your phone or iPad then select only those betting sites that are intuitive and easy to use.
Payment Options
In the UK, you can no longer use your credit card in order to deposit funds into your betting account. You can use the most popular brands of debit card, while most betting sites also welcome payments made using the likes of PayPal, Skrill, Apple Pay and similar platforms.
Clearly, the bookmaker's accepted payment methods should chime with those that you have at your disposal. Some betting sites have modernised yet further by welcoming cryptocurrency payments via Bitcoin, Ethereum and co. Make sure your betting site supports your preferred payment option and don't forget to swerve those operators that don't protect your funds at all.
The Price Is Right
It's often said but it bears repeating: one of the most important factors in your choice of betting site is the quality of odds supplied. We're not talking in general terms here, we're talking about the prices offered on the football betting markets that you most regularly plunder.
You can do your own research in that regard – the various odds comparison sites make it easy to determine which bookmaker offers the best prices for your favourite categories of football betting. By taking the best odds as often as possible, you maximise your return. By maximising your return on winning bets, you can better mitigate the losses of unsuccessful wagers.