When it comes to signing up with a betting site, there are so many factors that you need to take into account. First of all is the bookie themselves. Regardless of whether they offer generous promotions, the best odds, amazing features and more, if they are not reputable and are likely to leave you in the lurch then they are not worth your time.
After figuring out which bookie will provide you with a safe and secure experience, you need to find a site that will offer a range of markets for the sports and events you want to bet on. From there, you need to look into specific new customer offers, payment methods and more. However, one factor that newer bettors tend to glaze over is sport-specific features. After all, there is no point in your signing up with a bookie to bet on football with them only to find that all of their features are centered on horse racing and golf.
In this guide, we will take a look at some of the biggest features that football bettors do not want to have to play without. We will also delve into how they work, the restrictions that apply to them and more. But first, a run down of the best sites on the web for football.
Best Football Betting Sites
In this first section we've highlighted our favourite betting sites for football. These are the sites that we'd recommend you try first and they'll cover the needs and wants of most punters. The chances are you won't need any other sites, but if free bets are your thing and you're after a larger selection then you can see a full list of sign up offers here.
Betway

Betway take football seriously. So seriously, in fact, that they're the main shirt sponsor of West Ham United and have been since 2015. With these kinds of connections, it shouldn't come as any real surprise that the football betting section of their site is substantial.
They offer coverage of a huge range of cups and leagues, both domestic and international, so it doesn't matter if you want to bet on the FA Cup or the Mali Premier Division, chances are they cover it. In terms of features, all the normal staples are there - live betting, cash out, bet builders and so on.
Sign Up Offer: £30 Matched Free Bet if your first Acca loses + 50 Bonus Spins
New UK customers only. Min Stake: £5. Maximum Free Bet: £30. First bet on a Football or Horse Racing multiple with 3+ selections. Overall odds: 3.00 (2/1) or higher. Free Bets available upon settlement of the qualifying bet. 50 Free Spins on Big Bass Bonanza (£0.10 per spin) credited on settlement of qualifying Acca bet. No wagering requirements on free spin winnings. Debit Card deposit only (exclusions apply). This offer is valid 7 days from the new account being registered. 18+ BeGambleAware.org. Bet the Responsible Way. Full terms apply. #ad
BetVictor

BetVictor are a non-nonsense straight to the point bookie with a history stretching back to the 1940's. Their website is clean, fast and laid out in such a way that you can very quickly get to the bet you want to place without having to hunt for it, which is a massive plus in our book.
Their odds are above average and there's a steady stream of promotions for their punters to claim, although these aren't visible until you log in so if you don't have an account you'll need to register before you can see them. Trust us though, they're worth a look.
Sign Up Offer: Bet £10 Get £30 in Free Bets
18+ New customers only. Opt in, bet £10 at odds 2.00+ within 7 days, no cashout. Get 6x £5 Free Bets, set events at odds 2.00+. 7 day bonus expiry. Debit Card / Apple Pay payments only. Click for T&Cs. Please Gamble Responsibly. #ad
In Play Betting
In play betting has come as a result of the internet. Gone are the days when many punters would place a bet at their local brick-and-mortar bookie and then go home and wait for the game to finish. Now, bettors can still place a bet on a range of pre-match markets, but they also have the ability to bet on in play markets too.
An in play market is a market that will be available throughout the game or until the market itself has been settled. The bookie will change the odds as the match goes by and as events unfold. For example, if Chelsea are the big favourties to beat AC Milan in the Champions League then they will offer shorter odds. However, if Milan go 1-0 up after 20 minutes, the odds will shift to reflect the state of the game and the score. Now, Chelsea will likely offer more value as they need to score at least two goals in order to win the game.
By contrast, Milan will have gone from having fairly long odds as the underdogs to shorter odds as they are a goal up. The important thing to remember here is that backing the underdog in a pre-match market will offer more value than if you backed them when they were a goal up.
Conversely, if you backed the favourite before the match started then they will offer little value. If they were to go a goal down then they will offer more value, but the chances of them winning are smaller as they are behind in the game. It is all a balancing act here as you need to work out whether it is worth the risk of backing a losing side to enjoy better value, or if you should back the underdog before the game has started to get good value.
The compulsion with in play betting can be to see a change in the odds and to back it immediately, without really taking a moment to think about the bet itself. Whenever you come to live betting ensure that you do your due diligence and work out whether the risk and the reward of your bet are worth it. After all, it is pointless you finding longer odds on an bet and foolishly backing it without ever actually doing the research to know whether it is a good bet or not.
Live Streaming
Live streaming is one of the most sought after betting site features. Whether for a football bettor or a punter of any sport, being able to watch and bet on your favourite sports and events can be huge. From a betting sense, having the game unfold in front of your eyes can be invaluable.
If you are watching the game being played, then you can spot subtle changes in the formation and tactics. You will also have an easier time seeing whether a player is trying to force the game too much, if a goalkeeper looks particularly wobbly under the high ball, or if a striker is getting closer and closer to getting on the end of the next through ball.
By contrast, if you are following on via live text updates, they are often insufficient if you are looking to inform your own bets. After all, whoever is updating the live text will usually want to get the information out as quickly as possible. This means they will not usually provide all of the information an experienced viewer can glean from a phase of play.
To utilise live streaming, you will almost always have to be signed into your betting account with a bookie. To qualify, most bookies will ask you to have made a bet in the last 24 hours, you need to have a positive balance in your account or you need to be betting on the race in question. The last one is obviously more specific to horse racing. Most betting sites that offer live streaming will allow customers to do so as long as they have money in their account or they have recently made a bet.
Keep in mind the fact that a live stream will usually have a delay of a few seconds. This means that while the pictures are being broadcast to you as quickly as the bookmaker can, it will usually come a few seconds behind the game itself.
The matches that a live streaming function will change based on your bookie of choice. Some bookies will show a handful of football matches as they prioritise horse racing and tennis, for example. Many of the biggest bookies will offer the chance to watch major European matches though, making it far easier to wager on teams from the continent.
Live Feed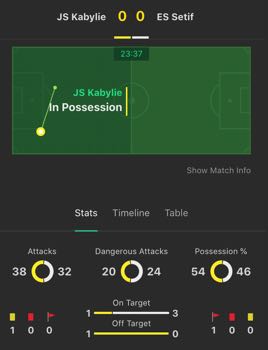 While a live feed of the match is hardly ideal, it is better than nothing. If your bookie does not offer a live streaming option for you to use, then the next best thing is keeping up-to-date via consistent updates from the site itself. This means you do not need to jump from one site to another to keep up with the game and place bets. This allows you to seamlessly make bets based on the live feed without having to fumble around for the correct tab to place your bet.
Keep in mind the fact that live updates will often appear far slower than a live stream of the game itself, so your bet may already be dated by the time you have placed it based on the updates.
Dedicated Betting App
A betting app is a great way to keep all of your gambling in one place. If you do not want to bet on your desktop or via the internet app on your phone, you can download and sign into an app, as long as your bookie of choice offers such a feature.
Betting apps allow you to keep your betting in one place. Most of the features you have come to know and love on a betting site will also be available on their app. Usually, a betting site will reward customers that download and bet using their app. They will generally do this by offering mobile app specific betting offers that can then be enjoyed on the app.
In order to download an app, first, check to see whether your bookie of choice provides one. If they do, head over to the app store or Google Play Store for iPhone and Androids respectively. Download the relevant app and start betting.
Cash Out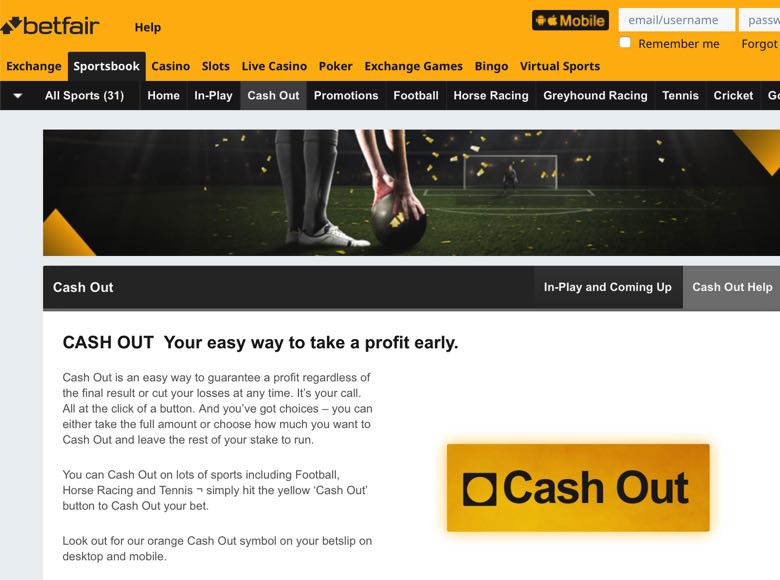 The term 'cash out' is one that is bandied around a lot, but there will be a lot of bettors that do not understand what it means. The phrase itself is simple enough, with a bookie offering the ability to cash out on your bet. Usually located in the 'my bet' section or similar, you can choose to take out a portion of your potential winnings before the match has ended or your market has settled.
Let's say you bet on Leeds to beat Manchester City at the Etihad Stadium. Leeds would be massive underdogs and so provide long odds with a good potential return. However, you must caveat the potential return with the risk, with both being very high.
If Leeds were to go ahead in the game, then your bookie may offer you the chance to cash out on your bet for a portion of the full offered net win. Of course, the amount you would cash out on would be less than if you decided not to cash out, but this feature is provided to allow you to gamble on whether you believe that things will go downhill for your bet from here.
If Leeds had gone 1-0 up in the first 10 minutes, then while the odds will have shifted, City would still be the favourites to win the game. They are the home side, a far better team and have a lot of time to turn the game around. If you cashed out, you would receive a partial payment based on what the bookmaker is offering you. If Leeds went on to lose 5-1 after you cashed out, then you have beaten the bookie here as you have clearly cashed out at the right time. If Leeds went on to win 1-0, then while you have made a net win, you have missed out on an even bigger return as the cash out amount will always be lower than your total potential net win.
What you will be offered if Leeds are 1-0 up over City will more than likely be less than what you would be offered if they went 2-0 up. This is because it makes sense for the bookie to try to lessen the amount they lose here as the odds would suggest Leeds are far more likely to win being two goals up than they are one goal up.
However, despite the fact your bet now seems likely to come in because Leeds are 2-0 up, remember that City are the favourites for the reason and, more importantly, football is a fickle game. In the space of a few minutes, Leeds could see their lead disappear, and with the loss of their lead comes you losing your bet.
Partial Cash Out
Partial cash out will allow you to collect some of your winnings while leaving some of your stake still alive. This means that you have the chance to enjoy a net win regardless of the outcome, although this is not a given.
Usually, a bookie will allow you to partially cash out any amount, although the minimum will be around 10%. For example, if your bet has a cash out value of £100, then you can cash out £10 and let the rest stay in the bet. What sets a partial cash out apart is the fact that many bookies will allow you to continue to take out partial amounts alongside keeping the same amount in the bet. This means that you can go back to partially cash out at different stages throughout the game.
As mentioned, partial cash out is a betting feature that can be incredibly helpful if used correctly. However, as with the standard cash out feature, you need to take your time to decide what is the best course of action regarding your bet. For example, you may decide to continually partially cash out on your bet, only to find that your bet has actually won, so by partially cashing out so much, you have cut the amount you could have won. Similarly, you may not take enough out via partial cash outs with your bet then losing, which would see you lose any of the stake that remains active in the bet.
Bet Builders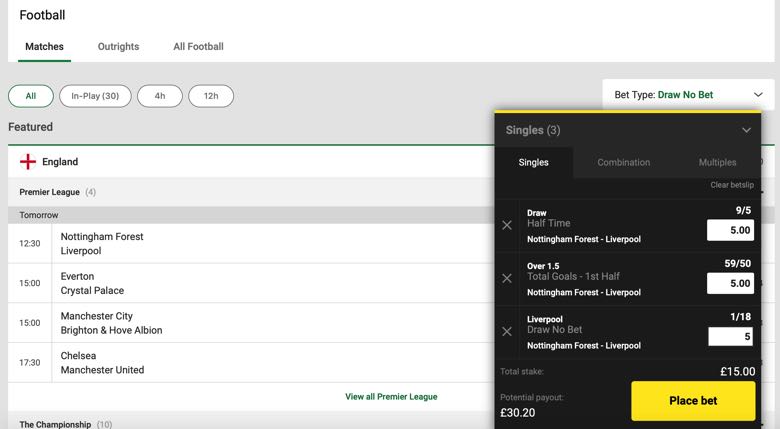 A bet builder allows you to bet on any and every football match that the bookie is able to offer. The bet builder allows you to add several bets to a single combined wager. There are usually a limited number of picks you can add to a bet builder.
Most bookies will allow you to really enjoy adding a lot of different markets to a bet builder. However, the most common markets that bettors choose to combine for their bet builders are match result, half-time/full-time result, team to score, player score betting, cards, corners and total goals. A bet builder is designed to give you the ability to take multiple single bets for a game and bring them together to make one big bet.
This is perfect if you want to bet on a team but the markets you want to back them in offer short odds. Usually, by adding in multiple shorter odds picks, you will be able to create a bet that offers a decent return. Of course, if you pair two odds-on picks in the winner and BTTS markets, then this will not give you very good odds. However, if you back a number of markets together in one bet builder, then you could be looking at a decent payout if you nail your bet.
Request a Bet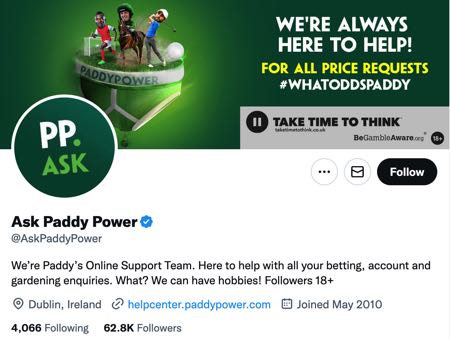 The request a bet feature has become increasingly popular due to the prominence of the internet and social media. Many betting sites will offer customers the ability to talk to them on social media, with punters sending a tweet on Twitter. This will see the admin for a bookie's account finding out the odds of a specific bet that a customer has asked for.
Often, the request a bet feature will be used by bettors that have noticed a specific market or pick is missing from a game. The bookie will then send a message back with the odds for the market along with a link to back it.
Away from more standard bets that the bookie has simply omitted, some bettors use the request a bet feature to ask for outlandish and frankly ridiculous betting markets and picks. While some of these bets sound utterly ridiculous, there will be those out there that have made good money on an unlikely bet.
Stats Packs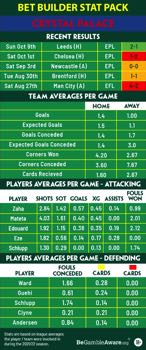 A stats pack is something that many bookies have decided to add to their roster in an attempt to become the one-stop-shop for bettors. Most customers will usually have a bookie that they feel has all of the features they need to bet with such as live streaming and bet builders. However, they will then need to go to another site to find stats and information on leagues, games and players.
To keep bettors on site for even longer, many bookies have started providing in-depth stats packs that are filled with information including head-to-heads, form, the players, goal scoring and more. This simply helps to inform a bettor before they make a bet. This is vital as there are still too many punters that will look to make bets without actually researching them.
By taking the time to really research a bet before you make it, you can ensure that any wager you make actually makes sense and has a chance of coming in. While even a huge amount of research will not help you win every bet, it can go some way to ensuring that you are not placing wagers that are simply never going to come off.
Competitive Odds
Competitive odds are the bread and butter of the world of gambling. Whether you are trying to make money from football, horse racing, cricket, tennis, politics or eSports, having competitive odds is crucial. If a bookie offers competitive odds, it simply means that they are at least offering odds that are similar to other betting sites out there. In an ideal world, you will always bet with the best odds available. After all, if you bet on a market and play with the longest odds possible, then your potential return from that stake will be as large as it can be.
However, if you like to bet with one or a small handful of betting sites rather than having accounts with lots of different bookies, then you may not always get the best odds on a match. Of course, you should try to ensure that your bookie of choice is always in the equation when it comes to providing competitive odds for your sport. However, bookmaker A may have great odds for the football leagues you bet on regularly like the Premier League, Champions League and La Liga, but when you decide to dip your toes into betting on the Championship and Serie A, you might find they are not quite as good.
This is why finding a bookie that boasts having competitive odds is vital. Betting with slightly shorter odds on one or two bets may not seem like an issue, but if you were to do it across 10, 50 or 100 bets, then you will likely notice the difference between your potential return with the best odds, and your actual return.
Promotions
While this is not strictly a betting feature that will only benefit football bettors, there are certain offers that will be ideal for a football punter. Betting sites will offer most customers the ability to enjoy a matched deposit or a free bet on an array of sports, but some will really double down on their offering by providing their players with football specific offers. These will usually be on the biggest matches that has got the league and betting world talking.
For example, if Manchester City and Liverpool come together on the final day of the season with a win for either side securing the title, you can bet that most bookies will provide a range of specials for this clash. One such special would center on the sides winning, for example. You may see majorly boosted odds on a side taking all three points or alternate scorer markets with inflated odds and more.
These markets are usually that much sweeter because they can help to make a big favourite that offers short odds a side that can be backed. If Manchester City were playing a Manchester United side without a win in five games, a bookie may allow betters to enjoy a promotional set of odds on City winning, meaning they are now priced at 5/1, for example. The one thing to remember with these offers is a bookie will likely pay out any winnings in free bets and not real cash.
Which Features Should My Bookie Have?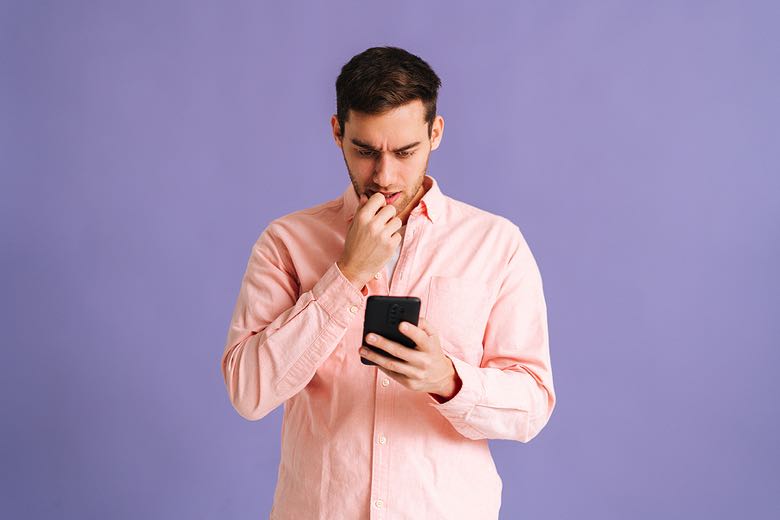 This is completely dependent on what you want from your bookmaker. Some football bettors will only want competitive odds and a bet builder. This ensures they can mash together all of their favourite markets whilst getting the best possible odds for it.
Other bettors will want a live streaming feature alongside football-centric betting offers. Your own personal preference will dictate what is and is not right for you. However, we would always suggest that it is better to sign up with a bookie that has a number of features. This shows that they are thinking about the customer when it comes to betting, rather than doing the bare minimum.