When anyone mentions Scottish football, the mind instantly moves to Glasgow based football clubs. Whether it is the fierce rivalry, the sheer passion or the ability to win trophies, clubs in Glasgow have dominated Scottish football for years.
In this Glasgow football clubs guide, we will look at the top professional teams from the area. We will look at when they were founded, how successful they have been across their history, and which sides have the biggest rivalry. However, as with many cities that boast multiple top quality teams, you won't win anything for knowing who the biggest rivalry in Glasgow includes.
Scottish Premiership
Many will state that there are only two teams in Glasgow worth mentioning. While we think this isn't true, it would take a truly die-hard fan to claim that any of the sides away from Celtic Football Club and Glasgow Rangers are better.
Celtic
When it comes to Scottish football, few can claim to be better than Celtic. The Hoops were founded in 1887 as the Celtic Football Club, although they are also unofficially known as Glasgow Celtic when referred to outside of the UK.
The ceremonial home of Celtic is Celtic Park and the 60,411 seat stadium has seen some incredible nights in its time, with fans treated to huge victories of Scottish and European opposition. While most clubs will state they have the best fans, Celtic genuinely have a claim to this accolade, with their supporters on another level.
Titles & Trophies
When it comes to titles and trophies, few professional sides in the world can compete with what Celtic have done. Their first Scottish League Championship came all the way back in 1892/93, and they have amassed a dizzying 51 titles since then. Their last title came in the 2021/22 season as they finished four points clear of fierce rivals Rangers at the top. This triumph was made even sweeter as they ensured Rangers did not keep hold of the trophy for longer than a single season.
Away from the league, Celtic have claimed an incredible 40 Scottish Cups and 20 Scottish League Cups. Clearly not playing favourites with either, the Bhoys clearly go into each and every competition aiming to lift silverware come the final game.
However, perhaps their greatest achievement came in the 1966/67 season as they were able to lift the European Cup. Their dominance has been far-reaching in Scotland, but they have struggled to transfer this onto the European stage. Indeed, a runners-up spot in the 2002/03 UEFA Cup was the last time they got anywhere near European glory – how they would like to change that in the coming years.
Dominance
Dominance is the word most would use when they think of Celtic and the Scottish Premiership, and Scottish football in general. The fact their greatest rivals Rangers entered liquidation before eventually being put in the fourth-tier of Scottish football after the business and assets were bought saw Celtic basically go unchallenged in the league.
Rangers' four-year absence from the Scottish Premiership saw Celtic continue to build upon their trophy haul, winning all four titles while Rangers were battling in the lower leagues. This made up part of an incredible winning run that saw Celtic win nine Scottish Premiership titles in a row. With seven trebles including triumphs in 2016/17, 2017/18, 2018/19 and 2019/20, Celtic have been the best team in Scotland for a long time.
Rangers
There is no party in Scottish football without Rangers. Celtic's major rivals and the only side that really seems able to stand up to the dominance of The Hoops, Rangers were founded in 1872, some 15 years before Celtic.
With Ibrox Stadium as their home, the Gers are a force to be reckoned with whether in Scotland or Europe, with the latter being emphasised across the 2021/22 season. Known as the Glasgow Rangers outside of the UK, Rangers have had to fight very hard to be battling in the same bracket as Celtic once again.
Titles & Trophies
While most perceive Celtic to be the greatest side in the history of Scottish football, Rangers are no slouches. In fact, they have secured more Scottish League Championships than their rivals, with 55 in total. Their most recent triumph came in the 2020/21 season, seeing a 10 year wait for the league title come to an end.
Unlike Celtic, Rangers also have a league championship crown in the second, third and fourth division following their switch to the bottom of the Scottish football pyramid following their liquidation. 34 Scottish Cups and 27 Scottish League Cups is an incredible haul, while they have been runners-up in the UEFA Cup, the UEFA Europa League and the UEFA Super Cup. They also won the European Cup Winners' Cup in the 1971/72 season.
Rangers boast seven total trebles in their history. These came in 1948/49, 1963/64, 1975/76, 1977/78, 1992/93, 1998/99 and 2002/03. While they have not been on the same level of dominance as Celtic in recent years, they have been the best side in Scotland on a number of occasions across their history.
Fall & Rise
While Rangers have a history steeped in trophies, wins and passion, their fans were put through some of the darkest days possible when it comes to a football club. On June 1st, 2012, Rangers entered the process of liquidation. A sale of the business and assets to Sevco Scotland Ltd (later renamed the Rangers Football Club Ltd) occurred. While a Rangers based football seemed assured again, many of the first team players refused to transfer across.
Rangers were eventually put at the bottom of the Scottish football pyramid, being forced to work their way back up from the fourth division of the Scottish football league. This only took them four seasons to do, an impressive feat considering they began their journey without most of their biggest names.
One of the biggest moves in Scottish football saw former-Liverpool and England midfielder Steven Gerrard take over at the club in 2018. There were significant ups and downs for Rangers and Gerrard including securing a place in European competition after Christmas back in the 2019/20 season, and also multiple disappointing defeats in cup competitions across these campaigns. However, Rangers finally returned to the summit of Scottish football under Gerrard.
On March 7th, 2021, Rangers won the league for the first time in a decade. While the title was always the main aim for the season, the manner in which they achieved top spot was incredible, remaining unbeaten across the campaign and picking up a club record of 102 points.
However, all good things must come to an end. Gerrard left Rangers for Aston Villa midway through the 2021/22 season, and he was replaced by Giovanni van Bronckhorst. While losing a manager midway through a season can often see a campaign derailed, Rangers seemed unaffected by the switch. The side missed out on defending their league title by just four points, while they won the Scottish Cup, beating Hearts.
However, their greatest achievement came in Europe. A stunning run that saw them beat Borussia Dortmund, Red Star Belgrade, Braga and RB Leipzig ended with a spot in the final against Eintracht Frankfurt. While the Scottish side did eventually lose on penalties to their German opponents, their run was truly magnificent, and saw them get far closer to a European trophy than their major rivals have managed in decades.
Scottish Championship
Outside of Rangers and Celtic, there are a number of other professional football clubs that hail from Glasgow. One such club is Partick Thistle.
Partick Thistle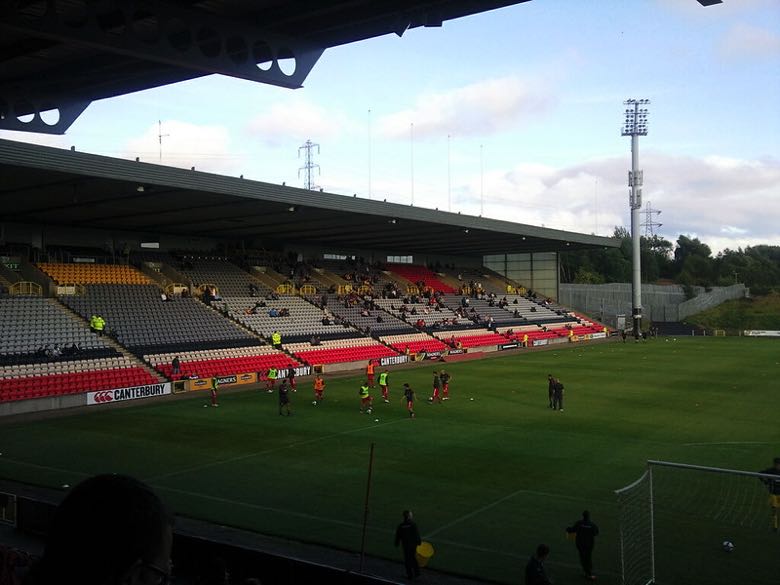 Partick Thistle FC were founded in 1876, meaning Thistle are actually older than Celtic. Calling the 10,102 seat Firhill Stadium their home, the Glasgow based club has always been fighting to get out of the shadow of their far bigger brothers.
Titles & Trophies
A single Scottish Cup triumph came back in 1920/21, while they won the Scottish League Cup in 1971/72. Away from these two trophies, Partick Thistle have not gotten anywhere near more silverware apart from league titles in the lower divisions. These do include six second tier division titles and two third tier titles, with Thistle fighting for a place in the higher leagues, rather than top spot in the Premiership.
Unfortunately for Thistle, they fall under the banner of little brother in the footballing world. Rangers and Celtic have been so good that few can see past them. This means that Partick Thistle will usually be something of an after-thought to those outside of Scotland, which is a major dis-service to a great club.
Scottish League One
It cannot be easy being one of the smaller sides in a city that boasts goliaths of the game, but that is exactly what our next club are.
Queens Park
Most English fans may think you have missed out the 'Rangers' at the end of Queens Park, but that would be doing the side a disservice. Founded way back in 1867, The Spiders play their football at Lesser Hampden.
Titles & Trophies
Queens Park have the unenviable job of trying to be a successful Glasgow based club in their own right. After all, Celtic and Rangers have won enough trophies to sate a whole league, let alone two clubs.
Despite being the lesser known of the three Glasgow clubs, Queens Park have managed to secure two second tier league titles, one third tier league title and two fourth tier titles. However, it is in cup competitions that Queens Park really seem to excel. 10 Scottish Cup triumphs is an exceptionally impressive tally when considering the dominance of Rangers and Celtic.
One very interesting fact is that Queens Park are the only Scottish side to have even reached the FA Cup final, a feat they reached in both 1884 and 1885. Despite being a fairly successful team in their own right, Queens Park have always been in the shadow of Rangers and Celtic, and it seems they will remain in this huge shadow for the foreseeable future.
Which Is the Most Successful Club in Glasgow?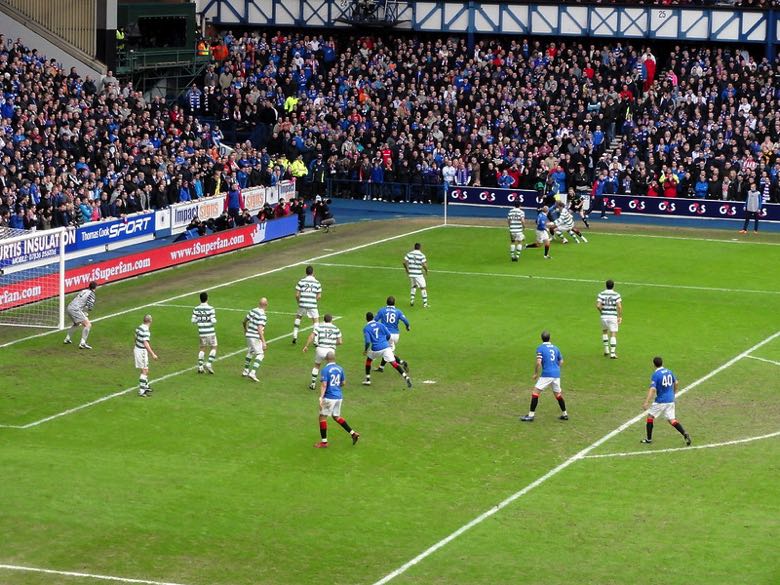 As you might have guessed, this was only ever going to come down to two clubs. Queens Park would have been right up there if this was written some 120 years ago, but the exploits of Rangers and Celtic in recent years has been so incredibly dominant that no side has gotten close. With this in mind, which of the two great rivals will come out on top: Rangers or Celtic?
| Competition | Celtic | Rangers |
| --- | --- | --- |
| Scottish League Championship | 52 | 55 |
| Scottish Cup | 40 | 34 |
| Scottish League Cup | 20 | 27 |
| European Cup | 1 | 0 |
| UEFA Cup | 0 | 0 |
| European Cup Winners' Cup | 0 | 1 |
| Total Major Trophies | 113 | 117 |
*Stats correct as of May 2022
While no team has come anywhere near either Glasgow side with regard to winning trophies, their dominance has been anything but dull. Indeed, when looking at a side like Bayern Munich, who have been the best team in Germany so often, the competition can seem more like a "competition", with most betting on who will win the league without Bayern involved. However, in Scotland, the two have been so evenly matched across their history that they are only separated by four major trophies at the time of writing.
Perhaps it is even more impressive on Rangers' part that they were out of the top league in Scotland for almost half a decade (with none of the second, third or fourth division trophies counted in the above table), and they are still ahead. Celtic will do everything in their power to ensure that they overtake Rangers at the next possible opportunity, and you can bet that the Gers will battle all the way as they look to extend their advantage.
The Biggest Derbies in Glasgow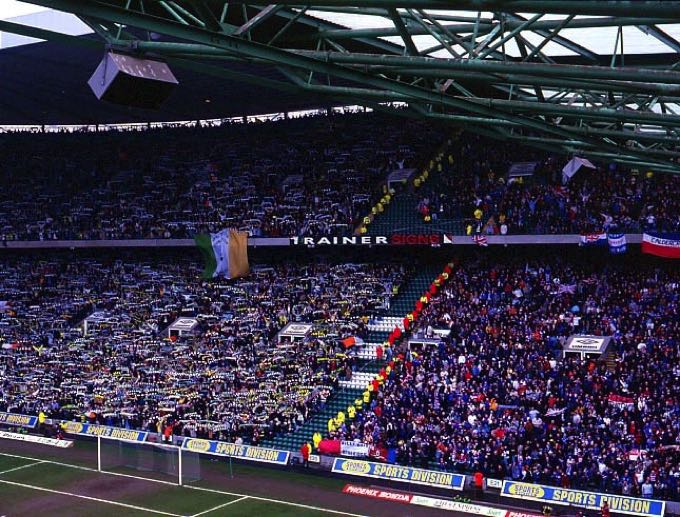 At this point you are probably sick and tired of seeing Rangers and Celtic being mentioned, and we are tired of writing the team names too. However, if you are going to talk about the biggest rivalries in Glasgow, then Rangers and Celtic will feature.
The Old Firm Derby: Rangers & Celtic
The Old Firm derby is a battle between Rangers and Celtic, with the two most successful and popular sides in Scotland going head-to-head. The derby has always been fuelled by political, social and religious divisions, and this has seen the feud between the sides intensify. Across the history of games between the sides, Rangers are the most successful. In 430 matches, Rangers have won 168 times, Celtic have claimed 161 victories, while there have been 101 draws.
Always at Each Other's Heals
Interestingly, Rangers have a better record over their opponents in the league, winning 126 matches, losing 112 and drawing 89. In the Scottish Cup, Celtic are better, winning 25, losing 18 and drawing 10. Incredibly, at the time of writing, there is a dead heat in the Scottish League Cup, with 24 wins each and two draws. Incredibly, the sides just cannot be separated.
While there have been unsavoury scenes in the past between the sides both off and on the pitch, the derby is usually epitomised by tough challenges, stunning goals and nerve-jangling results. If you want to watch a match full of passion that showcases fast football, fiery matchups and stunning pieces of brilliance, you will not go wrong with the Old Firm Derby.
The Greatest Rivalry in Scotland
The Old Firm derby is truly the greatest rivalry in Scotland. Fans of the teams will probably argue it is the fiercest in the UK and football, while others will say that it is up there with the best rivalries in sport. With 230 major trophies between the pair and a lifetime of red cards, goals, saves and raucous stadium atmospheres packed into one derby, it is difficult to disagree with them.