If you love the game of football, the chances are that you will have been taught how to play it by someone else. Whether this came in a school football team, a club side or by your parents, siblings or friends, you will have had somebody imparting their knowledge and wisdom on you. The same cannot always be said for betting.
When it comes to wagering on the beautiful game, many people have had to find their own way when it comes to being the bettor they are today. For some, this has made them astute and intelligent bettors that only wager on things they have done thorough research into. For others, this means that they are careless and reckless bettors that will sooner place a bet on an incredibly unlikely event than they are to actually think about what they are putting their money on.
While some will tell you that the dreamers in betting are what made Leicester's 5000/1 title success such a fairytale, others will claim betting like this is foolish. After all, those that nailed their once-in-a-lifetime bet on Leicester City to win the Premier League won't tell you how many long odds bets they have lost. Clearly, a middle ground needs to be found, and that is done by understanding how to bet. In this guide to betting on football, we will take a look at the first steps you must take, how betting works, what the odds mean and much more.
Skip Ahead: Odds | Popular Football Bets | Finding a Bookmaker | Placing a Bet | What Happens Next?
Where to Bet: Our Pick of the Best Football Betting Sites

BetVictor
Bet £10 Get £30 in Free Bets
18+ New customers only. Opt in, bet £10 at odds 2.00+ within 7 days, no cashout. Get 6x £5 Free Bets, set events at odds 2.00+. 7 day bonus expiry. Debit Card / Apple Pay payments only. Click for T&Cs. Please Gamble Responsibly. #ad

Betway
£30 Matched Free Bet if your first Acca loses + 50 Bonus Spins
New UK customers only. Min Stake: £5. Maximum Free Bet: £30. First bet on a Football or Horse Racing multiple with 3+ selections. Overall odds: 3.00 (2/1) or higher. Free Bets available upon settlement of the qualifying bet. 50 Free Spins on Big Bass Bonanza (£0.10 per spin) credited on settlement of qualifying Acca bet. No wagering requirements on free spin winnings. Debit Card deposit only (exclusions apply). This offer is valid 7 days from the new account being registered. 18+ BeGambleAware.org. Bet the Responsible Way. Full terms apply. #ad
How Do Odds Work?
Right, before we get anywhere near placing bets or signing up with a bookmaker, let's take a look at the part that people find the most confusing, the odds. First of all, there are a number of different formats the odds could be in. The main ones you will usually see are Fractional & Decimal.
What Are Fractional Odds?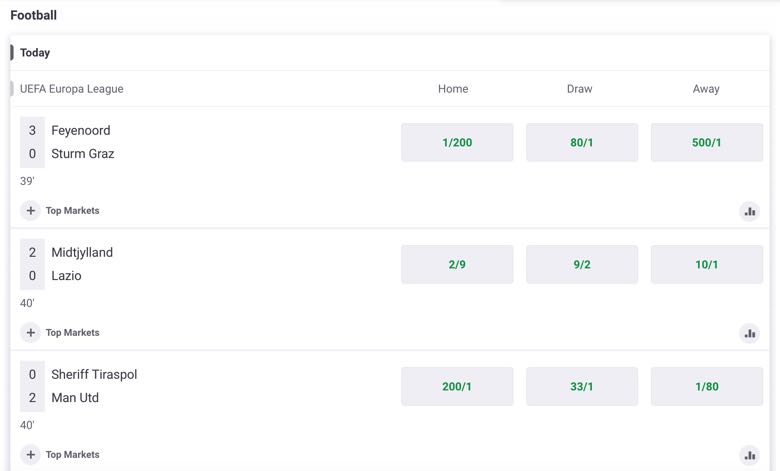 If you spent any time not listening in a maths class in school, then you may have missed all things fractional. While they seemed unnecessarily confusing at the time, fractional odds are the go-to odds format for many bettors.
In betting terms, you may see fractional odds like 1/2, 8/5, 13/5, 45/17, 5000/1 and anything in between and beyond. It is also worth noting that the odds are said out loud as 'five-thousand to one' (5000/1), or 'one to two' (1/2). You simply read the first number before the second number. The combination of odds you may see in a match for football, tennis, cricket, rugby and more dictate the price you are able to take on a certain event becoming a reality.
Let's say you want to be on Wolves' game with Manchester City. The match winner market looks like this:
| Wolves to Win | Draw | Manchester City to Win |
| --- | --- | --- |
| 17/2 | 4/1 | 1/3 |
The above odds tell you all you need to know about the game and which way the bookmakers think it will go. For City, they are seen as massive favourites to win the match. This is because they are the best team in England and possibly Europe, they are unbeaten in the league so far, and they are playing a Wolves side in awful form.
Odds On
The bookmaker has therefore made City 1/3 odds-on favourites. Simply put, the term 'odds-on' means that the odds of an event becoming reality are shorter than evens. So, if City were evens, they would not be odds-on. If they were 2/1 or longer, they would not be odds-on.
However, in this instance, City are 1/3, which is odds-on. Simply put, in fractional betting, if the number before the forward slash is smaller than the number after it (4/6, for example), then it is odds-on, meaning it is likely to come off. If the number before the forward slash is larger than the number after it (5/1, for example), then it is not odds-on and therefore less likely to come off.
How It Translates into Money
As we can see from the odds, City are big favourites, with every £3 you bet returning £1 on top of your original stake. Therefore, if you bet £30 on City to win, you would win £40 (your original stake of £30 + £10 in winnings). In this scenario, City are seen as very likely to win, so in order to get back any winnings of note, you need to place a larger stake. While you may think this is safe as City are such big favourites, it is always worth bearing in mind that there is no such thing as a certainty in sport.
On the flip side of this, Wolves are big underdogs. Their poor form and the fact they are playing the league's best side means they are 17/2 to win. The 17 refers to the amount you will get back for placing 2 of whatever currency you bet in. For example, if you placed £2, you would receive £17 in winnings if Wolves won. To further this, if you bet £4 then you would receive £34 back in winnings plus your £4 stake, and so on. The return for backing Wolves is far better as they are seen as very unlikely to win.
This is the exact opposite of backing City. You can bet a smaller amount on Wolves and get a better amount as winnings because they are seen as big underdogs. The potential reward is high as the risk is high. For City, the potential reward is low as the risk is seen as low. The draw is seen as the second most likely result in the match betting at 4/1. A draw would have to see the two sides locked on the same scoreline at the end of the match. The Holy Grail in betting is finding a team, player or event that has a good chance of winning whilst also providing decent odds and a good potential return.
The Long and Short of Fractional Odds
Multiply the fraction shown by your stake amount. For example, 4/1 odds with a £10 stake would be read as 40/10, with £40 being your potential winnings and £10 being your proposed stake.
What Are Decimal Odds?
Another popular way of having your odds provided to you is via decimal odds. Decimal and fractional odds are very similar, but decimal odds include the stake amount. Decimal odds show the amount you stand to win from a £1 bet. Therefore, for Manchester City's trip to face Wolves, you could see this:
| Wolves to Win | Draw | Manchester City to Win |
| --- | --- | --- |
| 9.5 | 5 | 1.33 |
Here, if you put £1 on City to win, you would get £1.33 back, with this including your £1 stake, meaning your winnings are £0.33. If you bet £1 on Wolves, then you would get £9.50 back (your £1 stake and £8.50 in winnings). Backing a draw with a £1 stake would get you £5 back (your £1 stake and £4 in winnings).
How to Spot a Favourite
In decimal odds, anything between 1 and 2 is see as a favourite bet, while 2 is evens. The bigger the number, the less likely the event is seen as being.
What Are the Most Popular Football Bets?
This is something of a loaded question as different bettors will favour different markets. This simply means that if we were going to note all the major markets then you would be reading this article all day. Instead, we have brought together some of the biggest betting markets that all bettors enjoy using. This means more in-depth markets that require a lot of research, skill and expertise will not be listed here.
Match Winner
The big one. Whether you are a bettor or not, if you know your football, then you know that this market will have you wagering on the outcome of the game. If Liverpool are hosting Everton in the Premier League, your options will be Liverpool to win, Everton to win and a draw.
Betting on the favourite will not usually offer much value unless the two sides are incredibly evenly matched, and even then, this will likely see neither side offering great odds. If you were to back Liverpool and they win by any scoreline, then your bet will win. If Everton win or the game ends level, then your bet will lose. While many bettors will wager on big name recognition alone, we would always recommend you do your research first as there is value to be enjoyed if you can nail a shock win or a draw.
Both Teams To Score (BTTS)
You may hear people refer to this market solely as 'BTTS', but this is simply the shortened way of saying the both teams to score market. This betting market will ask you to predict whether both sides will score in the game, it's that simple. You will usually be met by the options 'yes' or 'no'.
If you bet on 'yes' in this market, then both sides need to hit the back of the net for your bet to win. The scoreline and winner does not matter in this market, as long as you have predicted whether both sides will hit the back of the net or not. Your bet would win if you picked 'yes' in this market as long as both teams have scored. On the flip side, if you backed 'no', then your bet will win if one or both sides fail to score. The odds in this market are rarely long.
Correct Score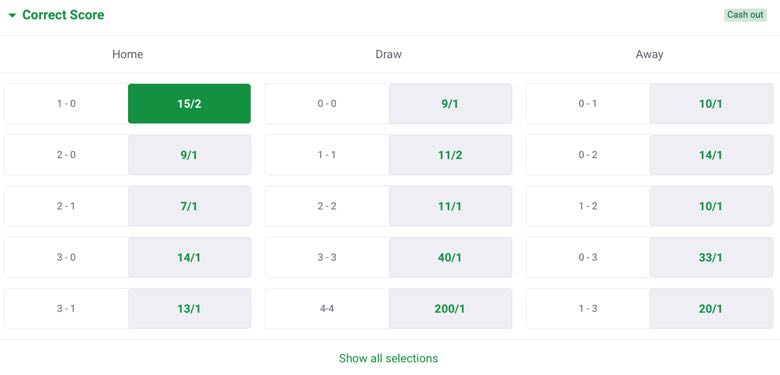 This market does what it says on the tin. You need to nail the correct score in the game in order to see your bet win. This market is notoriously tough to get right as freak goals and scorelines do happen. This could mean that Chelsea have gone 10 games without conceding and come up against a Leeds side that have not scored or won in any of their last five. However, the nature of football and the Premier League in particular sees Leeds run out 3-1 winners, a scoreline that few saw coming.
Nailing this bet would see you enjoying some long odds not just because Leeds should not win the game on recent form, but also because there are so many potential scorelines. You may have backed Chelsea to win 2-0 and the game may see this scoreline from the 10th minute. However, with mere seconds left, Mason Mount scores to make it 3-0 with the last kick of the game, seeing a bet that was winning for 80 minutes lose at the last second. This market is tough to nail but offers a decent payout if you get it right.
First/Last/Anytime Goal Scorer
This is an amalgamation of the three main goal scorer markets. Goals are the most important currency in football, and they have seen teams win and lose games, leagues and tournaments. This is why betting on goal scorers has become so popular.
The basic facts with each of the first, last and anytime goal scorer market is that you will bet on a player that you think will score first, last or at anytime in the game. In the first goal scorer market, you need to pick the player that will score the very first goal of the match. It is not good enough for your player to score a goal 30 seconds after another player scores the first.
The last goal scorer will ask you to pick the player that will score the final goal of the game. Whether your player scores in the first minute of the 90th, as long as no other player scores after them, then your bet will win.
The anytime goal scorer market is a lot more lenient. Your player simply needs to score at any point in the match. It does not matter whether they score first, last or anything in between, as long as your player scores, your bet will win. Because of this, the anytime goal scorer market will offer shorter odds (less value) than the same player in the first and last goal scorer markets.
Half-Time/Full-Time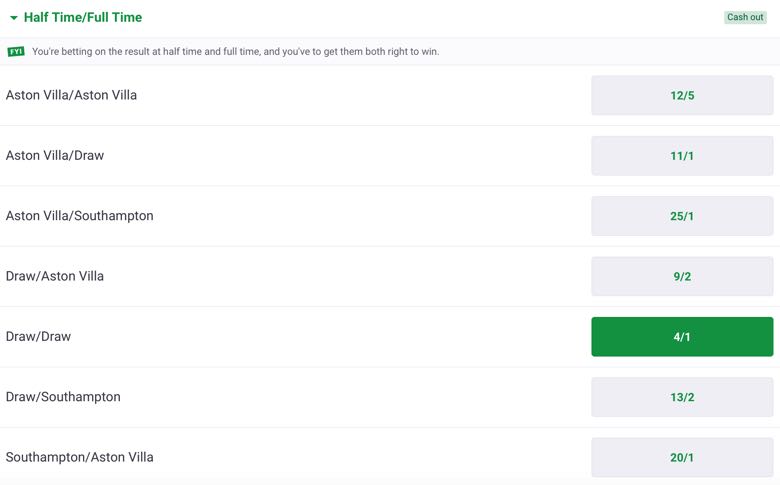 This market is similar to the match winner market, only you must also predict which side will lead at half-time. This market will give you options like 'Manchester City/Manchester City'. This means that Manchester City will win the first-half/Manchester City will win the second-half. Therefore, if City were leading at half-time and then win the game, your bet will win. However, if it is a draw at half-time and then City win the game, your bet will lose, as the winning bet would be 'Draw/Manchester City'.
There are a number of options for this market, with this market usually providing longer odds than the match winner market as you must predict two separate events happening.
Draw No Bet
This is a betting market that confuses a lot of people, but it is actually very simple. The draw no bet market basically lets you bet on the outcome of the match while omitting the draw from the betting. If Manchester United were playing against Tottenham and you fancied United to win but know that Tottenham have drawn most of their away games and will likely turn up looking to ensure they do not lose, you may worry about your bet losing due to a stalemate.
The draw no bet market, therefore, alleviates this worry. Backing United in this market means that if United win, your bet wins, if Spurs win, your bet is a loser, and if there is a draw, your stake is returned to you.
Match Result & Both Teams To Score (BTTS)

This market brings together both the match winner and BTTS markets. Here, you need to wager on the result of the match (home win/away win/draw) along with whether or not both sides will score in the game.
This market offers better odds than using either market individually as you need to be right on two different counts, with this being the result of the game and whether both teams will score or not. Usually, a betting site will offer an option like 'Chelsea', with this often-meaning Chelsea to win and yes to both teams scoring.
If you believe only one team will score, then you will usually have the option of 'Chelsea/No', with this meaning Chelsea to win and no to both teams scoring. Be careful in this market as some bookies will have different ways of expressing the options.
To Win to Nil
This is similar to the match result and BTTS market in the sense that both give you the option bet on a winner and whether one side will fail to score. If you bet on Arsenal in the to win to nil market, then they must win and keep a clean sheet for your bet to win.
It would not be good enough to see Arsenal win 10-1, for example. The size of victory is irrelevant to the market as all that matters is your pick wins and does not concede a single goal.
Accumulators
This is not a specific type of bet like the match winner, instead, you will amalgamate different bets to make one big bet. You will often see huge 'accas', as they are commonly  called, on social media where a bettor has put down a relatively small amount on their bet but, due to the size of their acca, the potential return is massive.
The potential winnings are big in an acca as the odds are multiplied together and if a single leg of your acca lets you down then your bet will lose. This means that you could nail 19 bets and one is a loser, then this will be your acca lose. Many bookies offer acca insurance offers, which will see a betting site give you some or all of your stake back if a single leg of your acca lets you down.
What to Look for in a Bookmaker
Now that you know how odds work and the most popular football markets, you can start to place bets on the biggest and smallest competitions and matches. You'll need to create a betting account, but first let's take a look at what you should be looking for when choosing a bookmaker to bet with.
Reputation
This is a huge factor in betting online. Wagering with the big high street names means that you are betting with a bookmaker that has a good reputation. You know that the best bookies will keep your money safe and give you all of the tools you need to enjoy your betting experience.
The draw towards signing up with a relatively unknown bookie can be large, especially if they boast a big welcome offer or great features. However, if they are not particularly well-known, this could lead to a whole host of problems in the long run. In betting, a bookmaker's reputation is everything.
Welcome Offers & Free Bets
A welcome offer is something a betting site will give new customers if they sign up with them. This is a bookies way of standing out from the rest of the crowd as many bettors will sign up with a bookmaker simply because of their welcome offer.
The most common welcome offers tend to be a matched deposit and free bets. A matched deposit usually provides more potential value than a free bet offer, but you will also have to deposit more. For example, a matched deposit with a bookie may be 100% up to £100. This means that you can get up to £100 in free bets when you sign up with a bookie.
Matched Offers
This sounds great, but the percentage shown is also important in these offers. In this case it is 100%. This means that the amount you deposit up to £100 will be matched by the bookie. So, if you deposit £100, the bookie will match this 100%, meaning you will get £100 in free bets. Similarly, if you deposited £20, you would then get £20 in free bets.
Both the percentage and the free bet amount can differ massively. Of course, the higher the monetary amount stated, the more of a bonus you can get from the offer. The percentage is also very important, with the amount ranging. If you got 50% up to £100, then you would have to deposit £200 to unlock the full bonus amount. On the flip side, you could see 200% up to £100, meaning you need to place £50 to unlock the £100 bonus.
Free Bets
Free bets are a little more simple to understand. A standard free bet is Bet £10 Get £10. This means that if you bet £10, you will then be given a £10 free bet to use by the bookie. This is a favourite welcome offer among newer bettors as it is so easy to understand.
All you need to know is that you can unlock the second amount by betting the first. Therefore, in a Bet £10 get £40, you can unlock £40 by betting £10. As with all welcome and existing customer offers, always make sure that you read the terms and conditions fully.
Selection of Sports & Leagues
While you may decide to start betting solely on football, it is perfectly likely that you will get bored of only betting on the beautiful game. This means that you may want to take a break to wager on another sport. This means that when you come to signing up with a bookie, you need to take a look at the sports and leagues they have on offer.
If they only offer football and a handful of other sports, then you will likely get bored with their choice quickly. It is important to have the foresight to know that you will not always want to bet on the same sport and leagues.
Competitive Odds
Competitive odds are a major buzzword when it comes to betting. While you may not see much of a problem backing a bet that has slightly shorter odds with one site than another, this can become a problem the more you bet.
If you were to win fairly regularly with shorter odds, then your overall winnings will be smaller. As mentioned, if this is with just one bet then it will not seem particularly bad. However, across the course of 10, 50 or 100 bets, you will see a big loss in potential earnings. Doing the rounds and comparing the odds of the bookmakers you are thinking of signing up with is very important.
Betting Markets
Above, we noted some of the most popular football betting markets, but there are far more markets you can enjoy both in football and sport in general. Having enough betting markets to bet on and enjoy means that if you get bored betting on one style of market, like scorer markets, then you can switch to betting on cards, players, outcomes and more. Any bookmaker that only has a handful of betting markets for the sports you want to bet on is not worth signing up with.
In-Play Betting
In-play betting, also known as live betting, is when you bet on an event as it is happening. This will see the odds shifting due to occurrences during the game or event. This means that while a team may be the favourite before the game, they may concede a few quick goals, meaning they are trailing and see their odds drift considerably. Similarly, the odds of the underdog now winning are much shorter. In-play betting can be a great way to make the most out of a shift in the game and odds, although you still need to take the time to weigh up whether a bet is right whether it is a pre-game bet or in-play.
Features
Many of the best bookmakers will offer bettors features that can make a good bookie a great one. The best features available to players right now include live streaming, bet builders, live betting, mobile betting and a mobile betting app. While you may not want all of the above features, if you want to be able to watch certain sports and events and bet on them in-play, then you should look out for a bookie that will provide these features to you.
Banking Options
Banking options are exceptionally important as this can help to ensure you can quickly and easily deposit and withdraw money, while it can also help to ensure your payments and details are secure. Most bookies will offer major banking options like Visa, Mastercard, Skrill, Neteller, PayPal, Apple Pay and more.
Perhaps most important is the fact that if a bookmaker only allows you to use banking options you do not already have an account with or do not know or trust, then they should be avoided.
Placing a Bet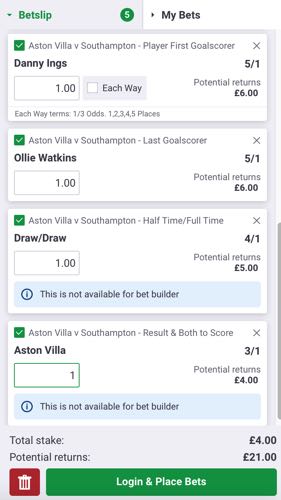 Once you have decided on the bookie you like and you have registered with them, you are a step closer to placing your first bet. Before doing this, sign into your account and make a deposit.
1. Deposit Funds
To do this, you will need to head to the banking page, select your banking option of choice and make a deposit. Once you have deposited, your funds should appear in your account fairly quickly. You will now be able to use your funds to make a bet. To make a bet, you need to head to the sport you want to bet on which, in this case, will be football.
2. Fill Out Betting Slip
The different sports will usually be shown along the left-hand side of the homepage, or they will be shown by clicking on the 'A-Z Sports'. From here, select football, and this will open a page with all of the available competitions and games that you can bet on.
Selecting the game you want to wager on will reveal the different markets you can use. Picking the market you want to bet on will show off all of the outcomes and their odds. Once you have chosen your bet, click on it to add it to your betslip.
3. Confirm Bet
Your betslip will usually be shown on the right of your screen. You will see the bet you have chosen is now appearing there. To confirm this bet, you need to add your stake amount. Your stake amount is the amount you want to bet. Remember, you need to ensure you are not betting more than you can afford. Once you have entered the amount you want to bet, you then need to click to confirm your bet.
What Happens Next?
If you have placed a pre-game wager, you now have to wait for the match in question. The settling of a bet will often be done at the end of the result after 90 minutes. This means that many betting markets will keep you waiting until the final whistle.
However, there will be some bookmakers and betting markets that are settled before this. Make sure you check the rules your bookmaker abides by as some will payout once the result of the market is known, meaning a first scorer market may be paid out before the full-time whistle, for example.
Do Bets Still Count in Extra-Time?
No, they do not usually count in extra-time. You may see a betting market that is '90 minutes only'. This means that the betting market and your choice will count for the 90 minutes of the game only.
Injury Time vs Added Time
Be careful here, as extra time and added time/injury time are two different things. Extra time is used by some competitions if the two sides are level at the end of a 90 minute game. This will see two 15 minute halves played, with a total of 30 extra minutes used to try to force a result. A penalty shootout can then be used as a final resort if a result is not forthcoming.
Injury time and added time are periods added onto the end of the first and second half. The referee will take into account injuries, time-wasting, substitutions and other stoppages and add on time. It is important to note that your bets will be different in these time periods. For example, let's say you bet on Lionel Messi to score anytime for PSG. If he were to score in added/injury time in the second half, so in the 93rd minute, then your bet will win.
However, if PSG's game went into extra time and Messi then scored in the 93rd minute of extra time, your bet would not count in most circumstances. Most bookies will see the market as having been settled at the end of regular time. However, some bookies will provide specific markets that solely account for extra time or incorporate it into a bet. Make sure you keep an eye on the terms and conditions of the markets you are betting on.
Penalties Count, But Not in a Penalty Shootout?
Yes, this is another confusing rule for new bettors that is easily explained. It is a common question when it comes to betting, but the rule usually sees a penalty in the game counting towards your bet. However, if it is a penalty in a penalty shootout, then this will not count towards scorer markets in any capacity.
To make matters more confusing, penalties scored in extra time do and do not count depending on the situation. If the betting market you have wagered on is 90 minutes only, then a penalty scored in extra time will not count towards your market, as it will have been settled at the end of the 90 minutes.
However, if you are betting with a bookie that incorporates extra time into their bets or you are betting on a market that is based on extra time, then a penalty will count. It can be very confusing, and this is why it is vital that you read the small print when you go to bet.
Own Goals
Like penalties, own goals do and do not count in different scenarios. If you are betting on the scorer markets (anytime/first/last/to score a brace/to score a hat-trick), then an own goal will not count. For example, if you bet on Cristiano Ronaldo to score a hat-trick and he scores two goals and then nets an own goal, this will not be regarded as a hat-trick. Instead, Ronaldo will have scored a brace, with one more goal at the right end seeing your bet win.
However, if you bet on most other match orientated markets, own goals will count. For example, if you were betting on Manchester City to beat Arsenal and BTTS, with City winning 5-1 and Arsenal's only goal coming via an own goal, your bet would still win.
Void Bets
A void bet means that a bet will not payout at the agreed upon amount, with your wager returned to you. Bets could be voided due to match postponement, the event being abandoned, an injury or there has been a change to the event.
Is Betting on Football Easy to Do?
Yes, betting on football can be easy to do and very enjoyable if you take your time and learn the basics. That is not to say that winning when you bet is easy to do though. You can do all your research and be betting on something that is seen as very likely to come in and still lose. That is why we love betting on football and sports, as it can be so unpredictable.
While this may put some people off, those chasing the huge wins will be buoyed by Leicester's title win in the 2015/16 season or even Swansea City's triumph in the League Cup in 2014. While these events do not come around often, when they do, if you gamble on it correctly, you could be in for a decent payout.