There is nothing more exciting in a game of football than goals. Some will claim a huge save from a goalkeeper, a piece of silky skill or a moment of madness provide the most entertainment. However, for most viewers, players and bettors, nothing can quite fill that void like a goal flying into the back of the net.
The excitement that is bred from goals is why the goal scoring betting markets are so popular. In a specific match, you can have anything from first/last/anytime goal scorer, to score a brace, to score a hat-trick, time of the goal, both team to score, match winner and total goals, total goals over/under and many more. Clearly, betting on goal scorers is popular, with the top goal scorer market also proving very popular for bettors that like to make bets that will take some time to settle.
What is the top goal scorer market you ask? Well, we will tell you everything you need to know about the top goal scorer market, how it works, why it differs from match scoring markets, helpful tips and more.
Is Top Goal Scorer the Same as the Golden Boot?
While it would seem odd to have to separate names for the same thing, that is exactly what has happened here. The term 'Golden Boot' has become synonymous with the highest scorer in a league or competition and feels more like the lingo of a football fan, rather than a bettor.
Meanwhile, the 'Top Goal Scorer' is something that you will often see on a betting site, meaning that it has connotations with betting, although the term is not exclusive to the world of gambling. You will likely see different betting sites using the 'Top Goal Scorer Betting Market' or the 'Golden Boot Betting Market'.
All you need to know is that both betting markets essentially ask you to do the same thing by picking the player you think will score the most goals across the league or tournament. However, the Golden Boot market will likely have an alternative way that it plays out in the event that two or more players finish on the same number of goals, with this something we will go into more detail later in this article.
Do All Goals Count When Betting on the Top Scorer Market?
First of all, own goals do not count towards the top goal scorer market. This is the same as in the anytime/first/last goal scorer match markets. If you back Harry Kane to top score in the Premier League and his opening day sees the forward score two goals at the correct end before netting an own goal, only two of his goals will count, with the own goal not counting towards his goal tally.
The only goal markets in which this differs is where the scorer of the goal does not matter. So, if you bet on Manchester City to beat Manchester United and over 2.5 goals, if there was one goal and two own goals in a 2-1 win for City, then your bet would win as City were triumphant and there were over 2.5 goals scored.
There are a number of leagues around the world that have a play-off at the end of the season to settle promotion or relegation. If you have wagered on a player that will feature in the play-offs, then you should bear in mind that any goals scored in the post-season matches will not count. This market is, unless otherwise stipulated, settled at the end of the regular season.
Matches in the Champions League and World Cup can go to extra-time if the game remains level after 90 minutes. If goals are scored in this period, they will count towards the tally a player has in the top scorer charts. However, if your player scores in a penalty shoot-out, this goal will not count. It is worth noting that penalties scored before the penalty shoot-out will count towards your players tally.
The scenario in which goals in extra time count towards a top goal scorer tally can cause confusion as goals in extra-time do not count towards specific match markets. For example, if you bet on Lionel Messi to score anytime and he nets in extra-time, this will not see your bet win. These match specific bets will have settled at the end of the 90 minutes.
Goals scored during third and fourth place-playoffs will also count towards the top scorer market at a competition like the World Cup, while goals scored in a replay in a cup competition will also count.
What Happens If Two Players Finish at the Top of the Charts?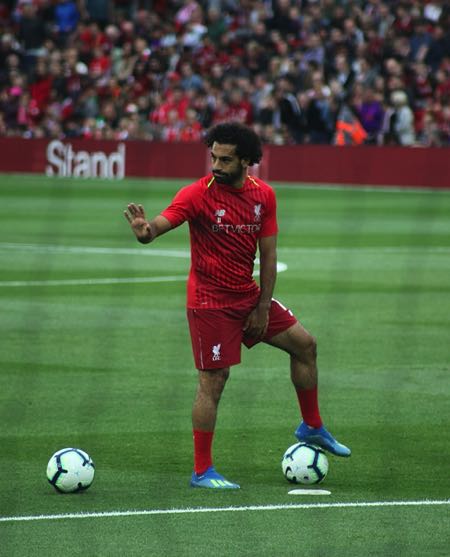 While this is not particularly common, it does happen. It is worth bearing in mind that a bookmaker might not always follow the way in which a tournament or competition decides who the top scorer is. Neither bookies nor governing bodies will tend to like having multiple winners, meaning there are ways used to split those at the top. Both the Euros and the Champions League will move onto the total assists of the players to split them. If both the number of goals and assists are the same, then the player that has played the least amount of time will be the winner.
In the Premier League, there is no such way to split the top scorers. In the 2021/22 season, Tottenham's Heung-Min Son and Liverpool's Mohamed Salah both scored 23 goals across the season. If the Premier League looked to assists next, then Salah would have won as he was the league's top assister with 13. However, as the league does not look past the total goals scored, the two players shared the award.
The only time you need to worry about the way that players are split in the running for the award is if you are betting on the Golden Boot. The Top Scorer market will see you trying to nail who will score the most goals, and so if you bet on a player to top scorer and they tied at the top, you would be paid out as a part winner as dead heat rules would apply.
In the Golden Boot market, you would have to hope that your player is better than the rest when it comes to the way the tournament looks to split the scorers. For example, you would want your scorer to have more assists than the person they tied with if you were betting on the Champions League. However, this does not always apply if the bookie decides to utilise dead heat rules of their own.
What Are Dead Heat Rules?
Dead heat rules are applied in football when there are two or more winners. Some bookies will ignore the official tie-breaker rules set out by a footballing organisation. The dead heat rule will see your bet halved if two players top score.
For example, if you bet on Cristiano Ronaldo to top score at the Euro's and Harry Kane and Ronaldo end up at the top of the charts, then there are two top scorers. Here, the bookie will take half your stake and regard it as a loser, while the other half will be seen as a winner. If there were three top scorers, then two thirds of your stake would be seen as a loser, while a third would be deemed a winner and so on.
This means that in the top scorer market, you would have seen a cut in the amount of potential winnings that would have come back to you. If you were betting on the Golden Boot market, then your bet would win if your choice then topped the assists/least minutes played, in line with the ways the governing bodies choose the Golden Boot winner.
Each-Way Betting on the Top Scorer Market
As with many outright betting markets, each-way betting has become a very popular way to wager. Simply put an each-way bet will see you placing a bet on a player or team to win with half of your stake, while the other half goes on your player or team to place. This means that if you placed an each-way bet on a top scorer like Ronaldo, you would win if he finished as top scorer, or if he finished in the top places (with these places defined by your bookie, with four places usually given). With four places given, you will usually get odds of 1/4 on the top four scorers.
Each-way betting is a way of giving yourself more chances to win if you like the look of a scorer, but you are not convinced by them. You would therefore be paid out if your player ends with the most goals, while you will get a smaller pay out if they place in the top spots. It basically means that you will get something coming back to you as long as they finish in the top places as defined by your bookie.
Top Goal Scorer Betting Tips
When it comes to betting on the top goal scorer betting market there are a number of things you should keep in mind. While our list is not exhaustive, they are points you should always keep in mind.
Look at the Competition
In most betting, the underdog is a bet you will back more in hope than expectation. However, if you are smart and choose the right competition, you could nail a bet with long odds. For example, the FA Cup does not see the bigger teams come in until the later rounds. This means that if a 'smaller' team has a particularly nice route through the competition, one of their players could be able to score a glut of goals in a mismatch.
This means that, despite the fact you are not backing a huge name in the competition, your pick could score enough goals in the first few rounds of the competition to finish as top goal scorer. Of course, this does require your pick to score a lot of goals, but it is not outside of the realms of possibility for a first-round clash to end in a big win for a side.
Don't Always Bet on the Favourite
This should be the case in any betting market you ever use. A certain team/player/outcome will be the favourite for a reason, but that does not mean they will definitely win. After all, Liverpool and Manchester City were the big favourites to win the Champions League with most bookies at the semi-final stage, only for City and Liverpool to both lose to Real Madrid in the semi-finals and final respectively. This saw the third favourites for the title win, giving those that backed them a decent pay-out.
The top goal scorer betting market is no different. Harry Kane may be the current favourite to top score at the World Cup, but take into account the fact that England have been poor in the summer of 2022 in the Nations League with goals at a premium.
Therefore, it would not be foolish to assume the Three Lions will struggle for goals at the World Cup in Qatar, meaning a bet on Kane may be a risky one despite him being favourite. Instead, you could look at a player like Cristiano Ronaldo. Ronaldo will still be fancied, but playing for Portugal, he will go in with better odds. However, with this likely his final World Cup, the forward is still in imperious goal scoring form and he is the point from which his side attacks, he could prove an astute bet despite not being the favourite.
Each-Way Bets Can Be Vital
Looking to back one specific player can prove difficult in this betting market as your choice could be in stunning goal scoring form, but his team lets him down. This means there is a lack of fluency in their play, passes are often misplaced or there is a major focus on defending rather than attacking. This is why betting a player like Robert Lewandowski for Poland is smart in theory, with the forward one of the great goal scorers, but the team around him will likely struggle to consistently give him quality service.
On the flip side of this, Kylian Mbappe is surrounded by world class talent in a very attacking French outfit. This means backing him outright is a decent bet. However, if you decide you want to bet on Lewandowski, who provides longer odds than Mbappe, then you can do so in the each-way market.
This will allow you to be paid out if his does top score, and you will also get a small payout if he places. This is where each-way betting can be incredibly intelligent wagers to make, with your bet being given some safety if they do not win outright but still place in the top spots.