Diving is an offence that is seen as among the worst in football. While it is nowhere near as dangerous as a reckless two-footed challenge or violent conduct, it is a point of contention that is plastered across social media whenever it happens. A dive is defined as an attempt by a player to gain some form of unfair advantage. This is done by falling to the ground without receiving the necessary contact from another player that would mean they should go down.
Dives are often mocked in the media and online as they are sometimes followed by the player that has dived rolling around on the floor and feigning injury. It is one thing seeing a fully-grown adult take a small amount of contact before rolling around on the floor, but it is another thing seeing someone not take any contact at all before throwing themselves to the ground.
However, this is not always the case. The glut of cameras that are now at most major football matches makes it far harder for those that sometimes dive to get away with it, but it does still happen. These days, a dive is not solely defined as a player going down without contact, as players are more likely to go down with some contact, but it is not enough to see them actually knocked to the floor.
Many current superstars of the game have been much maligned in this regard, with the likes of Neymar, Harry Kane, Mohamed Salah and Raheem Sterling all accused of diving in recent years, but when should contact from another player result in a player going down?
How Do You Know When a Player Has Dived?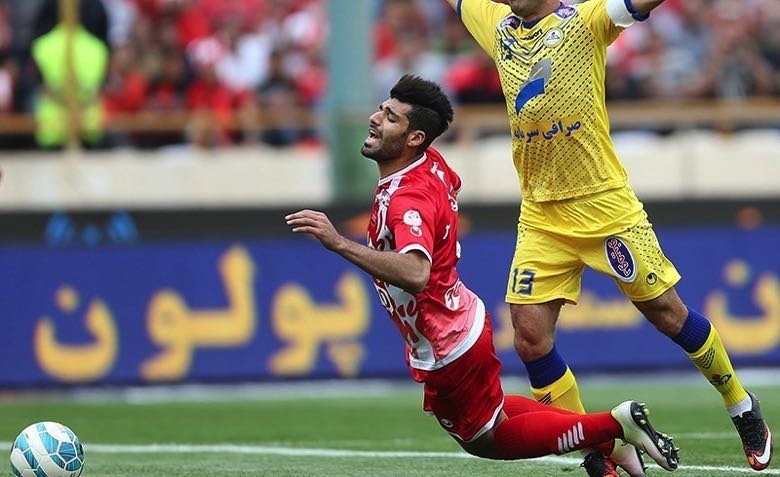 This is the problem, as a dive is something that is likely defined differently from person to person. The old adage was that players from Europe and South America were more likely to go down due to minimal contact than their 'strong and powerful' opposition from the UK. However, while this may have been true in the past, it is not the case anymore, or at the very least things are different.
As mentioned above, Kane and Sterling have both been guilty of diving in the past, whether they were trying to gain an unfair advantage, or if they genuinely thought there was enough contact to go down is unclear. Regardless of this, they have been labelled, and still are labelled by some, as divers. In the same way, former-Real Madrid enforcer and centre-half Pepe was never one to shy away from conflict on the pitch. While he did divide opinion, one thing that most will agree on is that he always has his teammate's backs in a scuffle.
While the defender loves a robust challenge, receiving his fair share of cards in his time, he is also guilty of going down too easily in a match. His amateur theatrics means he has made a name for himself as a player that goes down easily.
A very high-profile example of diving, or at the very least amateur theatrics, came from Real Madrid defender, Eder Militao, in the Champions League in 2022. The centre-back consistently went down easily under no real pressure in an attempt to win free-kicks for his side and relieve the pressure from the likes of Manchester City and Liverpool. This shows that diving does not have to be for attacking free-kicks and penalties, it can be to end an opposition's attack too.
Traits Synonymous with Diving
While there is no definitive way to dive, there are a number of traits that have become synonymous with diving. These include:
A clear amount of time between the impact and the player going down.
A player acting as if there was more momentum in the tackle than there was.
A player holding a body part that was not part of the collision (such as holding the face when the contact was on their chest).
The pose known as the 'Archer's bow' where a player will fall with their head thrown backwards, their chest thrown forwards, their arms and hands behind them and their feet in the air (this is seen as the opposite to how the body is protected in a normal fall).
These are signs of a dive that most people can agree on. However, there are others, with some players getting even more crafty with the way they choose to try to gain an unfair advantage.
Why Are Dives Difficult to Spot?
With modern technology and the sheer array of cameras and angles on every part of the pitch, thankfully, diving is not as prevalent as it once was. It does still happen, but with the implementation of VAR, checks can be made to see if a player has tricked a referee into giving a penalty via a dive. This means players are less inclined to try to dive, while if they do, they are quite often exposed.
However, that does not mean that catching a dive is easy. One way in which some players choose to try to ensure that they will get the benefit of the doubt is by forcing the contact. This will see a player, often when they realise they have lost control of the ball, move their body (usually their legs) towards a player. This means that there is ultimately contact, but then it is up to the discretion of the referee as to whether the player has forced that contact.
While this can be fairly easy to spot, it can be incredibly tough to say definitively that a player has or has not forced the contact. VAR makes it easier to spot, but the end result can still split the opinion of those watching.
Punishments for Diving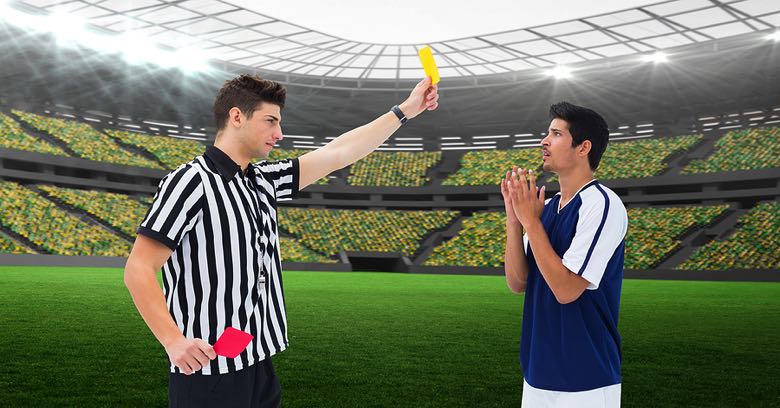 Yellow Card
The standard punishment for a dive is a yellow card. This can often be a first yellow, but it can also be the second yellow for a player, resulting in a sending off. The rules of the game stipulate that an attempt to deceive the officials by pretending to be fouled or injured should be punished by a caution. It is worth noting that not all dives are punished by a yellow card, with some referees choosing to have a talk with the player, with this chat usually stating that another act like this will end in a card.
Game Ban
There have been a number of attempts to ensure that players that dive are given harsher punishments, especially if the dive is not spotted by the match officials. In 2009, UEFA handed Eduardo da Silva of Arsenal a two-game ban for apparently diving in the Gunners' match against Celtic. Da Silva scored from the spot after the referee adjudged that he was fouled despite the video evidence suggesting there was no contact. UEFA's two-game ban was ultimately rescinded on appeal though, with da Silva winning his appeal.
In 2011, Sone Aluko of Rangers was handed a two-game ban by the Scottish FA for a dive which won a penalty against Dunfermline Athletic. Despite Rangers embarking on a review process, the ban was upheld, with most agreeing there was not enough contact to see the player go down.
Fines & Suspension
In the same year, Major League Soccer (MLS) began handing out fines and suspension to players following a review after each match. In the same year both Charlie Davies of DC United and Alvaro Saborio of Real Salt Lake were handed bans for simulation. In the Premier League in 2017, Everton's Oumar Niasse was handed a two-game ban for a dive against Crystal Palace. He was the first player to be banned by the Football Association for diving.
Harshest Bans for Diving
One of the harshest systems for bans comes from Oceania. A player can be given a yellow card if they are found to have dived, while they can get a one-game ban if the match is reviewed and they are judged to have partaken in simulation. If they do this three times in a season, then a five-match ban will be awarded, or a suspension until the end of the campaign, whichever is longer.
How Can Football Stop Diving?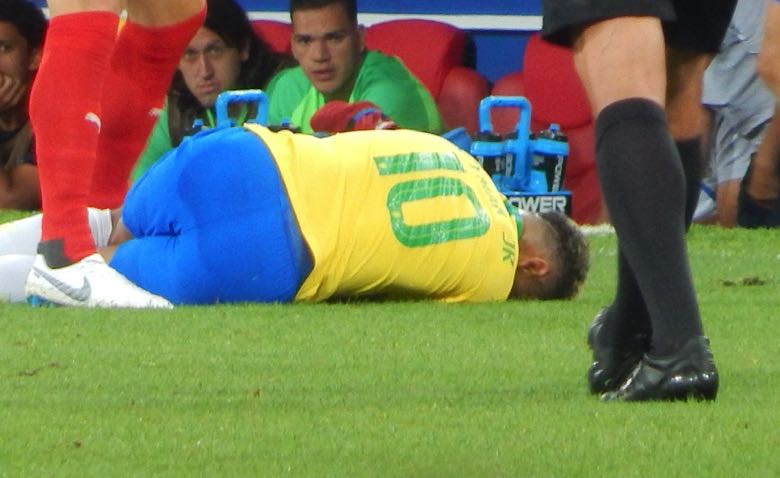 This is a difficult question to answer. The reputation of the game is on the line each and every time a player, especially in the top leagues, dives. When the best players in the world clearly dive, it brings the game into disrepute, with this also teaching young and impressionable players that diving is a part of the game, with the benefits apparently outweighing the punishment.
Harsher Punishments
There are a few ways that diving can be curbed more, with harsher punishments one such measure. Receiving a yellow card will usually see players walking a tight rope whether they are cautioned for simulation or a foul, meaning they will not likely risk their place on the pitch with more foolish antics.
However, if a player were to dive in the last minute of the game having not already received a booking, then they may judge their dive as a risk worth taking if it ends in a penalty or attacking free-kick. Again, this is not the sort of message that footballers should be sending to young players of the game.
Checking Each Foul Via VAR
A way of curbing this would be having VAR check every single foul, although this does have its drawbacks. As soon as you start checking every foul, all decisions will be scrutinised, ultimately hurting the flow of the game and seeing matches become stop-start affairs.
Longer Bans
Ultimately, it feels like the only way to stamp out diving is to make the punishments particularly harsh. Long bans would likely see most players decide not to take a dive in a game, although there may still be some that would take a long ban if it gave their team a penalty in a match, especially if that penalty gives their side a chance of winning a major final.