Football is a sport in which the only real aim is to score more goals than the opposition. But to that end, there's mini battles going on all over the pitch. You'll see opposing central midfielders slamming into tackles and a defender marking an attacker, using all the tricks in the book – legal and otherwise – to prevent their opposite number from gaining an advantage.
Another of football's most intriguing battles pits a skilful wide player against an opposition full back. The attacker has one ambition: to outwit their marker using skill and physical prowess, before whipping in a cross or passing to a better-placed teammate. For the defender, the challenge is to stop the attacker at all costs.
The wide man has a range of options at their disposal. Will they use raw pace to power past their marker? A clever feint or drop of the shoulder? Or will they deploy a piece of skill, such as a Cruyff turn or a nutmeg, in a bid to get past their opponent? The nutmeg is both a useful action to gain an edge as well as a sort of ritual humiliation: 'megging' an opponent considered to be a moral victory of one-upmanship on the pitch. So, what is a nutmeg in football? And, why is it called that?
What Is a Nutmeg in Football?
Although there are many different ways to achieve it, a nutmeg is where a player manoeuvres the ball through the open legs of an opponent.
Mbappé back after injury and doing what he does best ✨

That cheeky nutmeg 😮‍💨 pic.twitter.com/UQZ7pAI8A0

— Football on TNT Sports (@footballontnt) February 19, 2023
An attacker can pass the ball between the open legs of a defender, they could beat them with a piece of skill that sees them slip the ball through their legs and run around the outside, or they could technically nutmeg a rival by shooting at goal with the ball slotted through the intra-leg space.
As mentioned, there are different variations of the nutmeg: a pass or a shot can pass through a defender's legs almost by accident, whereas some silky operators enjoy nothing more than to nutmeg an opponent by manipulating the ball through their legs with an act of skill – the sort of thing that is particularly prominent in games of street and cage football.
Why Is It Called a Nutmeg?

It is interesting that the term 'nutmeg' is not reserved for just football, with other sports – including basketball and ice hockey – also using the word to describe the ball or puck passing between the legs of a player. As for the origins of why the name for a spice would be used to describe such a specific sporting act, the jury is out on an official explanation.
It is thought that nutmeg was first used in this context back in the 1970s, with the 'nuts' being, well, the testicles of a player that are, erm, exposed when the individual's legs are open. Similarly, nutmeg is used as a term to mean leg in Cockney rhyming slang.
If you prefer a more classical explanation, some uses of the term nutmeg date back to the nineteenth century and earlier. The phrase 'nutmegging' was added to the Oxford English Dictionary as far back as the 1800s, with its meaning 'to be tricked or deceived, especially in a manner which makes the victim look foolish' evidently appropriate for the act in a footballing context.
Similarly, as the trade in nutmeg between England and North American countries arose in the nineteenth century, nefarious sorts would swap out the valued spice for other substances that looked and weighed the same – somebody being tricked to into receiving such a parcel was known to be 'nutmegged'.
Who Is the Best Nutmegger in Football?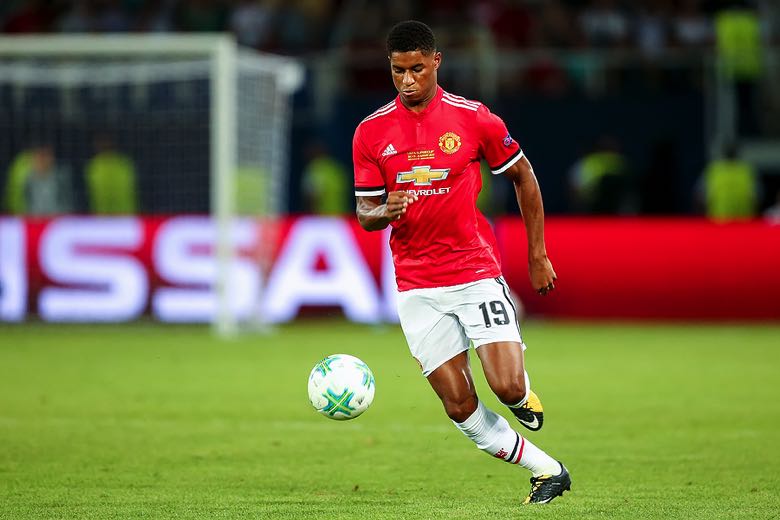 It's not a stat that has been liberally kept over the years, so deciding upon the best nutmeg artist in football is more educated guesswork than cast iron fact. That said, research by The Athletic found that – during the 2021/22 season at least – Watford delivered the most nutmegs in any of Europe's top five leagues, with their former striker, Emmanuel Dennis, responsible for 17 of them; at least four more than anybody else, including Jadon Sancho.
Another stat dump in 2020/21 found that Marcus Rashford was the king of the nutmeg in Europe's elite leagues, slipping the ball through 18 opponents' legs – four clear of the ever-slippery Neymar. Luis Suarez was another who loved to nutmeg his opponents – including two in one game against David Luiz in a Barcelona vs PSG clash. So famous was the Uruguayan for his party trick that a Liverpool fan once held a banner that read: 'Luis Suarez could nutmeg a mermaid'.
In years gone by, similar data simply wasn't available, so the masters of the megs were considered more anecdotal than factual. Even so, the likes of Diego Maradona and George Best – typically skilful players with excellent technique and deft dribbling – would feature highly on such lists.
The Argentine's love of a nutmeg never dimmed even after his playing career came to an end – as this clip attests, while Best, furious that Johan Cruyff was considered more skilful than the Northern Irishman by some, got a measure of revenge when he famously nutmegged the Dutchman – confirmed by international teammate Derek Spence.
"He did [Johan] Neeskins and then he did Cruyff," Spence recalled. "I didn't see the Cruyff one, but he definitely did it because it was confirmed by the Dutch player years later. They used to take the mickey out of him for it. He didn't like it, by the way.
So, while famous stars of today and yesteryear are known for their nutmegging abilities, few can hold a candle to the skills of Mohammed Shaleel. The Indian student has entered the Guinness Book of Records as the official nutmeg king, having achieved the feat ten times in just 30 seconds – a record previously held by former Tottenham and England ace Dele Alli.