A red card can be one of the most exciting occurrences in a game of football. Of course, nobody ever wants to see a horrible lunge from a player result in a red card, especially if it sees one player hurting themselves in some way.
However, a red card can completely turn a game on it's head, seeing the massive favourites because the underdogs at the click of a finger due to a misjudgement from one of their players. In this guide to red cards, we will take a look at what they are, why they are given, and suspension lengths in the Premier League.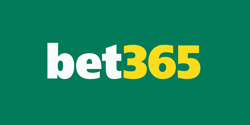 bet365 6 SCORES CHALLENGE
Predict scores to win up to £1,000,000!
We're giving you the chance to win up to £1,000,000 by predicting the scores of just six Soccer matches, every week at bet365! With the 6 Scores Challenge, all is not lost if you fall short on one or two results, we're also offering prizes for three, four and five correct results.
New and eligible customers only. Free to play. T&Cs apply. Registration required. #ad
What Is a Red Card?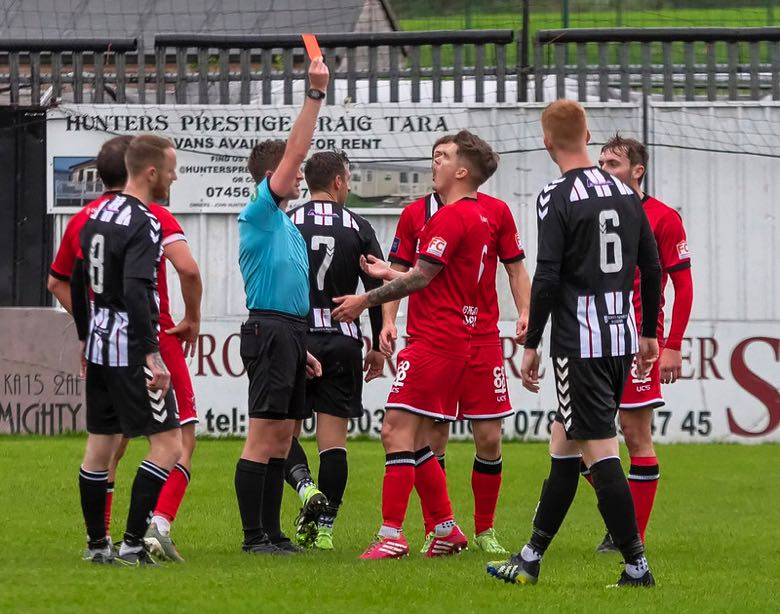 A red card is a method by which a referee can dismiss a football player or member of staff from the field of play. Whilst usually handed out to players for breaking the rules, they can also be given to members of the management and staff if they are seen to have broken the rules too.
For a member of staff, this will usually be because they have encroached upon the field of play repeatedly, they are arguing with the match officials, they are involved in some form of altercation and more. Ultimately, those on the sideline are held to the same standards as the player, meaning they will not escape being sent from the field if the referee deems it necessary.
Straight Red Card vs Two Yellow Cards
The red card can be produced through two different methods. The first is a straight red card, while the other is through two yellows. The two yellow red card will see a player cautioned once with a yellow card, before then seeing a second yellow card for another offence. A yellow card is given for offences such as dissent, un-sportsman like behaviour and fouling the opposition among others.
Reasons a Red Card Might Be Given
Meanwhile, a red card can be awarded in a game for:
Denying a clear and obvious scoring opportunity with a hand
Denying a clear and obvious goal scoring opportunity with a foul (unless the referee awards a penalty as it was an attempt to play the ball)
Violent conduct
Serious foul play/using excessive force
Receiving a second yellow card in a match
Player Must Leave Field of Play
Once a player is given a red card, they should immediately leave the field of play unless told otherwise. The only time a player should not leave the field is if they are told to remain. This would happen if VAR (Video Assistant Referee) informs the referee that a check is taking place or that they need to view the events on the pitch side monitor.
Five Red Cards Means Forfeit for a Team
If the referee deems it necessary, then the red card can be rescinded, but this is down to the referee. After being sent off, a player is not allowed to stay in their team's technical area and must leave the field of play. If a team sees five red cards in a single match, meaning they go down to six players on the pitch, then they will have to forfeit the game. This is because a team must have a minimum of seven players on the field.
How Many Premier League Games Will a Player Miss Following a Red Card?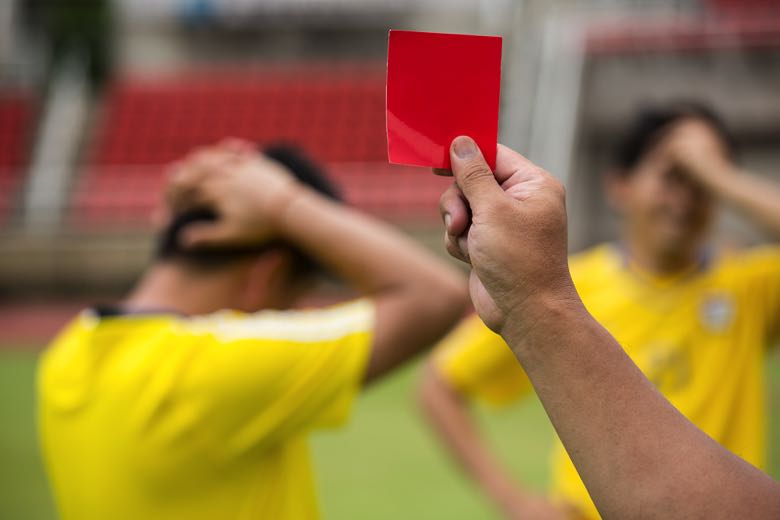 The Premier League, like most other major footballing leagues, will follow the Laws of the Game, but it is interesting to note that, like the amount of substitutes a team is allowed and the number of players that can sit on the bench, the length of a red card suspension will depend on the discretion of the league itself.
In England's top league, a red card resulting from dissent will see a two-match ban handed to a player, with this able to increase to four games in more extreme cases. This means that a lack of respect to the referee without it being overly extreme will see a two-game ban. For a dangerous challenge, the suspension can increase to three matches. If this red card is particularly violent, such as punching, kicking or headbutting, then the FA can increase the length of the ban if they deem it necessary.
While the bans for players will generally be a handful of games, these can extend much further in special cases. Luis Suarez's infamous bite at the World Cup saw the Uruguayan miss eight matches in the league despite this incident taking place on international duty. FIFA hold the right to ban a player from all football action if their offence is particularly bad or they fail to attend a drugs test or are found to be taking drugs.
Premier League Red Card Bans
As a summary for red cards in the Premier League, a player will be handed a:
One match ban for an offence like holding their opponent back when they are in on goal
Two match ban for dissent
Three match ban for violent conduct and dangerous tackles
Four match ban for extreme violent conduct and extremely dangerous tackles
Six match ban for spitting
One extra game can be added to the ban if a player refuses to leave the field within a reasonable time period after being sent off
Longer bans will be handed down to players that are found to have been racist or taking drugs
What Is the Difference Between Yellow Card & Red Card Suspensions?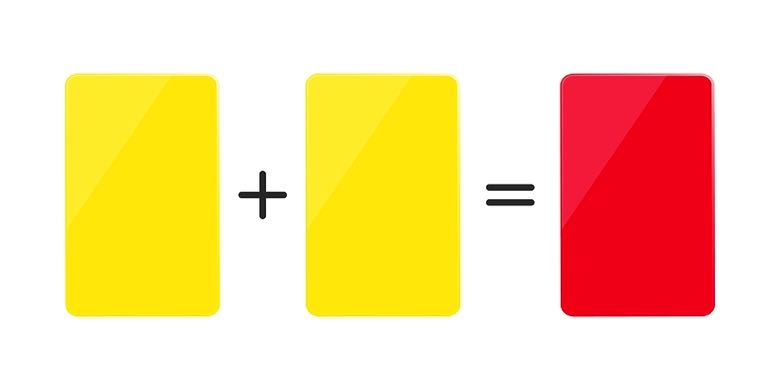 Suspensions for yellow cards are very different to those given out for a red card. A red will see an instant ban from the following game for a specific number of matches. For a yellow card in the Premier League, the rules will see a player with five bookings from the first 19 games of the season having to serve a one-game ban. If a player picks up 10 yellow cards from their side's first 32 games, then they will serve a two-game ban.
This means that for a yellow card, players will not automatically be banned for the next game for a single caution. They only way a caution can end in a suspension is if two cautions are picked up in the same game or the player picks up enough yellow cards in an allotted time.
Premier League Yellow Card Bans
As a summary, the Premier League hands out the following suspensions for players that receive a certain number of yellow cards:
One match ban for receiving five yellow cards
Two match ban for receiving 10 yellow cards
Three match ban for receiving 15 yellow cards
20 yellow cards will see a player forced to attend a special hearing to discuss their conduct
There is generally no hard and fast rule for the number of cards it takes for a player to be suspended, with this coming down to the league and competition themselves. For example, the Champions League and Europa League will hand out a one game ban for a player that receives three yellow cards.
This shows that a tournament in which there are far less games, there will be less leniency. The Champions League will only see a team play six matches in the group-stages of the tournament, with three yellow cards in this time seeing a player average one yellow card every two games or 0.5 yellow cards per game. In the Premier League, there are a total of 38 games, meaning a player can afford to get a yellow card every 7.6 games if they are to avoid a suspension.
Does the Premier League Wipe Yellow Cards?
The Premier League will wipe yellow cards on December 31, while the EFL chooses to wipe yellow cards a month earlier, on November 30. This means that if a player receives their fifth yellow card in the Premier League on January 2nd, for example, then they will not be banned.
It is worth bearing in mind that cards are not completely wiped away. This means that if a player receives 10 yellow cards after the turn of the year then they will still receive a two match ban. Take into account the fact that other competitions employ different rules, with international competitions and European cups wiping yellow cards after the quarter-final stage of the tournament.
Do Red Cards Carry Over into International Competitions?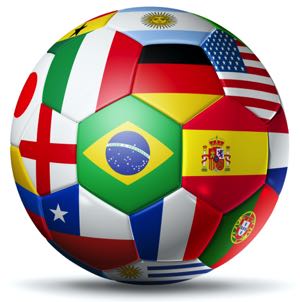 Fortunately for those that get sent off for their club before an international break or World Cup at the end of the summer, red cards for a club do not transfer over to international matches. This means that any suspensions at international level will not transfer over to club matches either.
As the global power in football, FIFA reserves the right to enforce worldwide bans that encompass both club and international football. This would mean a player would be banned for any sort of footballing action for as long as FIFA deem necessary.
Can a Red Card Be Appealed?
Yes, a red card can be appealed if a player has been given a straight red card. A player cannot appeal a sending off that is the result of two yellow cards. In the Premier League, any appeal would need to be lodged to the FA in the wrongful dismissal category and have to be made by 17:00 no longer than two business days after the event.
An appeal is then evaluated by the FA's Independent Regulatory Commission. The respective reports of the match referee and fourth official are usually evaluated along with video footage of the event. The panel will consider the Laws of the Game in relation to the red card.
In the Premier League, if the appeal is rebuffed, then an addition game can be added to the ban. If the appeal is successful, then the suspended player would have their ban lifted, meaning they are available to immediately return to action.