Maybe it's an age thing, but football fans of an older vintage won't recall the greats of the beautiful game in the 1960s, '70s and '80s removing their shirt after scoring a goal. Now, it's definitely a modern phenomenon – a player whipping off their shirt in a pique of celebratory high, or perhaps removing it to reveal a message written on an undershirt: everything from political statements to 'get well soon' wishes have been seen on the pitch.
The powers-that-be of the beautiful game generally take a dim view of shirt removal, and so prevalent – and problematic – has it become that the International Football Association Board (IFAB) have had to re-write their rulebook in order to try and stamp out such tomfoolery.
Getting Shirty
There are specific laws in IFAB's weighty rulebook that prohibit a player taking off their shirt, while revealing the punishment for those that flaunt the rule. Law 4 of the IFAB handbook relates to the Player's Equipment, detailing what footballers can and can't wear on the pitch. One of its sub-rules, Law 4.5, states:
Equipment must not have any political, religious or personal slogans, statements or images. Players must not reveal undergarments that show political, religious, personal slogans, statements or images, or advertising other than the manufacturer's logo.

For any offence the player and/or the team will be sanctioned by the competition organiser, national football association or by FIFA.
We know that the removal of a shirt – be it to show off a bare chest or a political slogan – is outlawed. But what is the punishment? Law 12, which refers to Fouls and Misconduct, confirms that a player can be booked for removing their shirt or lifting up their top to reveal an undershirt that carries a message that can be construed as:
Offensive or insulting (or featuring abusive language)
Provocative, derisory or inflammatory
Such messages are prohibited when they publicise a political party or movement, a group considered to discriminatory or a specific political act or moment in time that is likely to cause offence.
What Is the Punishment for Taking Off Your Shirt in Football?
For the most part, removing your shirt or even pulling up your shirt to cover your head or face – the classic 'Ravanelli' celebration – is a bookable offence.
Of course, if a player has already been cautioned during the game, then they will ultimately be sent off for that second bookable offence. A straight red card can be issued if an undershirt – revealed by the removal of a playing shirt – reveals a message that can be considered offensive or insulting, or contains foul and abusive language.
Which Players Have Been Booked for Taking Off Their Shirt?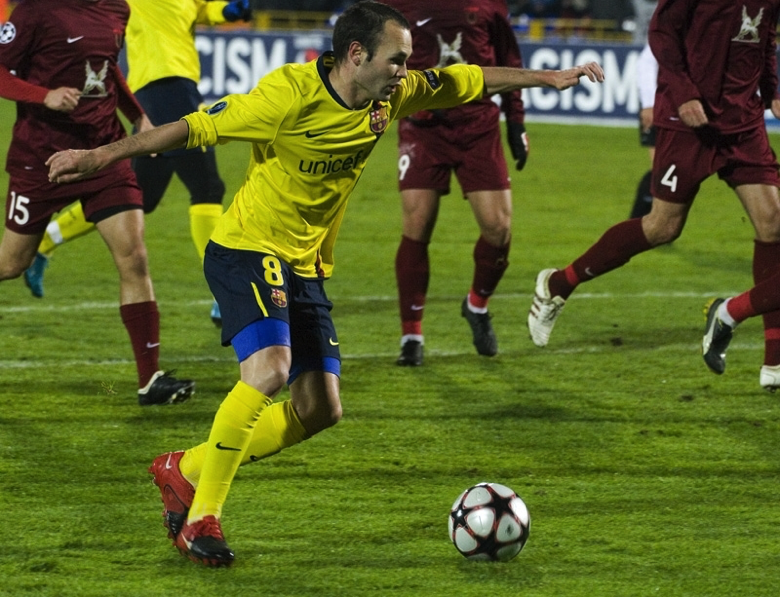 You can have some sympathy for those players that have whipped off their shirt and helicoptered it around their heads when scoring a goal of vital importance. Who can forget Sergio Aguero's late, late winner in the final game of the 2011/12 season, which secured Manchester City the title in the most dramatic of fashion? Referee Mike Dean followed the letter of the law and booked Aguero in the 95th minute amid the chaos unfolding inside the stadium.
Andres Iniesta, hardly the most demonstrative of fellows, was also booked for taking off his shirt while celebrating the extra time goal that would secure Spain's first ever World Cup in 2010, and Cristiano Ronaldo was cautioned for doing likewise when netting a record-breaking 110th international goal against the Republic of Ireland – the referee was almost apologetic as he showed the Portugal ace his yellow card.
Back in 1997, Robbie Fowler showed his support for dockers in Liverpool with a message on his undershirt – he was booked and subsequently fined, while others have been cautioned for otherwise supportive or emotional messages. The referee, unfortunately, is unable to show compassion and must simply follow the rules.
When Lionel Messi revealed his emotional message when scoring a day after the death of legendary Argentine, Diego Maradona, he was booked and fined. So too was former Leicester City winger Demarai Gray when he revealed a shirt that read 'for Khun Vichai' – a nod to the club's owner Vichai Srivaddhanaprabha, who was tragically killed in a helicopter crash back in 2018.
Players, including Matty Cash, that have shown solidarity with Ukraine via an undershirt have also been cautioned. Sadly, rules are rules in the beautiful game. And, a final, special mention should go to Ross Wallace, who was sent off not once but twice for – you guessed it – taking his shirt off to celebrate a goal having already been booked during the game!