Although their understanding of the sport can sometimes be brought into question based upon their decisions, in the vast majority of cases, football referees were fans of the game before they took up the whistle. Some would have been half-decent players too, although for the most part, their enjoyment of football would have been consigned to watching their favourite team in the stands or in their armchair.
It's true – many football referees support a team like the rest of us. Clearly, that could have connotations for the integrity of the sport if a ref is appointed to a game featuring the club they love, so can referees support a football team and how is that policed?
Can a Referee Support a Team?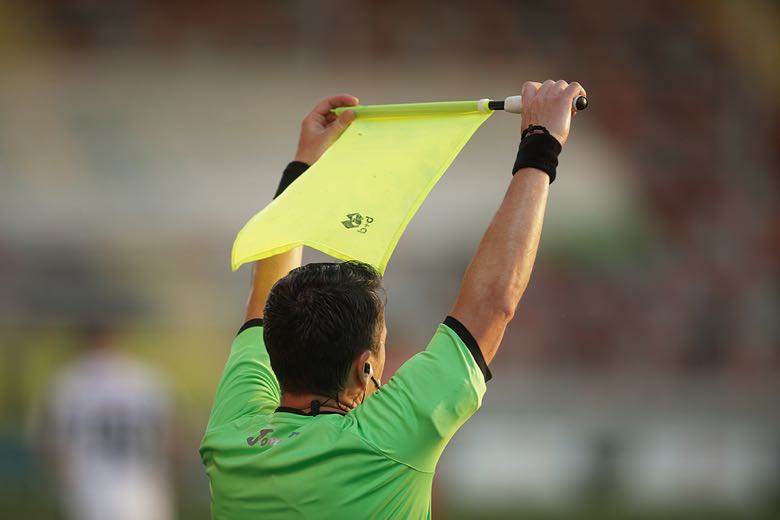 Whether down to geography, the allegiances of our parents and loved ones or the support for an individual player, we all choose the football clubs we want to follow for different reasons. Referees are no different, although while many of us are keen to support our clubs by attending games, wearing replica shirts or defending their honour in pub chat, some referees choose to not publicly make it known who they support.
And, who can blame them? Accusations of bias and cheating would no doubt follow if they were to make a borderline decision in a game involving a rival club. Here's the key thing to know, though: all football referees in the pro ranks must reveal the club they support to the Professional Game Match Officials Limited (PGMOL), the organisation that appoints referees for each game. Keith Hackett, the former head of PGMOL, has said:
At the beginning of every season the referees' background information is audited. They complete a form that includes who they support, the history of if they've played the game and with the addresses where they are residing.
It's a ruling that, according to PGMOL, avoids putting 'unnecessary extra external pressure and scrutiny on referees' should they give a contentious decision in a game featuring a team they have some kind of allegiance to.
How Are Referees Selected for a Game?
The data held by PGMOL ensures there are no 'conflicts of interest' when appointing referees to their weekend fixtures. That also includes refereeing teams local to the individual's home address. So, for example, Mike Dean was scheduled to officiate the 2006 FA Cup final. However, when Liverpool made it to the final, Dean was relieved of his duties – he is a Tranmere Rovers supporter that has lived in Merseyside for much of his life.
"We have complete faith in Mike Dean's refereeing ability, integrity and impartiality. However, given the huge interest in all aspects of the FA Cup final, the fact that he is from the Wirral might lead to comment and debate which would place him under undue additional pressure," a statement from the Football Association read. "The decision has been taken with the best interests of Mike Dean and the competition in mind."
Throwback to Mike Dean leading the Tranmere celebrations from the stands! 🥳

The Premier League ref was buzzing as his side secured their place in the play-off final at Wembley #OnThisDay in 2019! 😂 pic.twitter.com/1BRtGxzVuk

— Sky Sports (@SkySports) May 13, 2021
Other top-flight officials have found themselves in a similar position. Martin Atkinson is a northerner that supports Leeds United – he's not allowed to referee the Yorkshire side nor many of their local rivals. The same goes for Kevin Friend, a Bristol City fan who lives in Leicester. When the Foxes were closing in on the 2015/16 Premier League title, Friend was removed from a game featuring Tottenham – Leicester's closest rivals at the time.
There have been some occasionally controversial caveats to the general rule, however. Anthony Taylor resides in Wythanshawe, Greater Manchester, but after pleding his allegiance to Altrincham FC he has been free to officiate games involving Man Utd and City.
But there are some who believe his local ties should preclude him from such fixtures, with Hackett – post-PGMOL – once commenting after Taylor was handed an FA Cup semi-final tie against Everton: "If you're an Everton fan coming up to the FA Cup semi-final against Manchester United and you look at where Anthony Taylor lives, you suddenly go 'wow'."
However, things would come full circle at the World Cup in 2022 when Taylor was barred from refereeing the final, which he was initially scheduled for. He was removed over fears he might be accused of bias due to England's rocky historic relationship with Argentina.
Foul Play
In days gone by, PGMOL haven't always asked their referees to declare which club they support – and some took the opportunity to officiate games involving their beloved. There is absolutely no insinuation that Mark Halsey acted with anything less than complete integrity and professionalism, but he did referee two games involving his favourite club, QPR, prior to the updated PGMOL regulations.
The Hoops won one and lost one on Halsey's watch, and he later admitted:
I lived 35 miles away from Loftus Road. I refereed one win and one loss and I thought, 'I can't do this again'. I never told them initially because it was back in the 1990s and things like that were only just starting to happen.

I had to declare it because I felt like celebrating when they won. But once you've crossed the white line, you're the ref and you always remained professional.
Halsey himself has since been critical of an oversight that allowed Michael Oliver, a die-hard Newcastle United fan, to referee games involving their relegation rivals Norwich City back in 2016.
You've got Michael Oliver, a massive Newcastle United fan, who referees Crystal Palace v Norwich. Listen, I'm not questioning Michael's integrity because he is a great referee, but Norwich had a clear penalty with [Damien] Delaney bringing down [Matt] Jarvis. Why do they [the PGMOL] set themselves up for this?
There aren't any examples of referees being accused of bias against a club that is a rival of the outfit they support, although Craig Pawson came under the microscope when he appeared to look upset that Manchester City had lost to Tottenham in a game he officiated. But Pawson has never been officially accused of wrongdoing, and the evidence of any bias is scant at the very best.
Michael Oliver in The Clock tonight for a few pre match pints before he cheers on the Mighty Mags ! .. It's only right the best ref in the world is part of the worlds best fan base ! #nufc pic.twitter.com/EQIr0iOQRT

— Toon Fans (@fans_toon) December 27, 2021