It was classic, quintessential José Mourinho. With his Roma side 1-0 to the good against Monza, Mourinho showcased his unrivalled hubris – this is a man that called himself the 'Special One' while in charge of Chelsea, remember – by turning to the opposition bench and making a school playground style crying gesture at the Monza staff, as they protested against a referee's decision.
The Roma boss would have been feeling pretty chipper about his histrionic show… until, that is, match official, Giovanni Ayroldi, sauntered over to the side of the pitch and showed Mourinho the red card. What!? A manager being sent off? Are you sure?
Can a Football Manager Get a Red Card?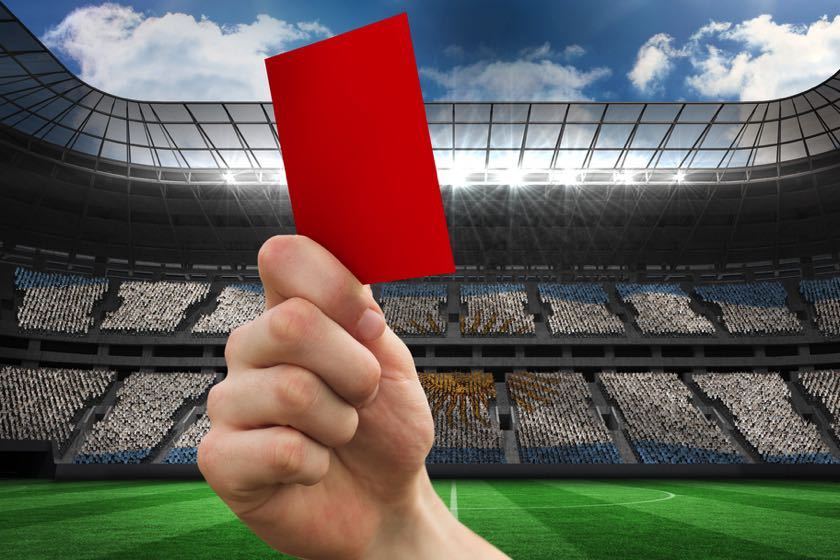 Yes. Managers, head coaches and the rest of their staff can be shown a red card if the match officials believe they need to be punished in this way. There is a whole host of offences that are deemed sending off offences for players, which according to the laws of the game include:
Violent conduct
Using foul or abusive language/actions
Biting or spitting
Receiving a second caution
Those are all 'crimes' that a manager could commit, and there are other punishable offences that could also see a head coach given their marching orders. If the manager leaves their designated technical area – that square you see painted onto the outside of the pitch by the dugouts, they could be shown a red card if they show persistent or aggressive dissent against a match official, or if they do so in order to act in a provocative or threatening way towards an opposition player, member a staff or even a ball boy or girl.
A manager can also be sent off if they enter the opposition's technical area and act in an abusive fashion, if they try to enter the video operation room or involve themselves in a referee's viewing of the TV monitor at pitch side. As if all of that was not enough, a head coach can also be sent to the stands if they try to interfere with play, throw an object onto the pitch or use unauthorised electronic or communications equipment. By our count, that is at least a dozen ways in which a manager can be sent off during a football match – it is no wonder that red cards are shown to coaches more often than you might think.
Can a Football Manager Get a Yellow Card?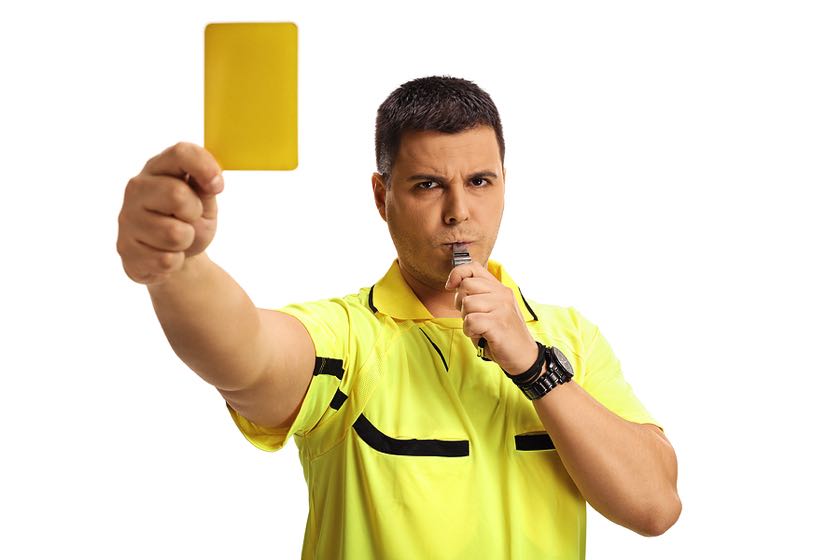 We know that a manager can be shown a red card, at which point they have to watch the rest of the game either from the stands or from somewhere behind the scenes – Lawrie Sanchez watched his Wycombe Wanderers side's famous FA Cup victory over Leicester City on a monitor within the tunnel.
In 2018, IFAB – football's rule-makers – initiated a pilot scheme in which managers and their coaching team could also be shown yellow cards for misdemeanours considered not serious enough for a sending off. That was considered to be a success, so in 2019 it was rolled out formally – albeit individual football governing bodies could decide whether to introduce yellow cards for managers or not themselves.
The English Football Association decided that the initiative was a useful one, and so now referees can show a yellow card to misbehaving managers at all levels of the professional football pyramid. There have been plenty of examples of managerial cautions since, with those who have shown dissent by throwing down/kicking a water bottle, sarcastically clapping a match official and kicking the ball away (time wasting) all deemed yellow card offences.
"Unbelievably! I have no clue how I got that yellow card!"

Sean Dyche had plenty to say about the officiating in the Merseyside Derby! @AndyKerrtv with the questions. #beINPL #LIVEVE #EFC pic.twitter.com/BAcdFWLowF

— beIN SPORTS (@beINSPORTS_EN) October 21, 2023
What is also interesting is that if a manager's coaching team misbehaves as a unit, it is they who can cop the yellow card and not their unruly staff! As is the case with their players out on the pitch, managers can also face suspensions from the touchline if they are booked too many times – at the time of writing in English football, a head coach will be subject to a one-game ban if they accumulate four yellow cards during the season, eight bookings secures a two-match suspension and 12 yellows a full three-game ban.
The Football Manager with the Most Red Cards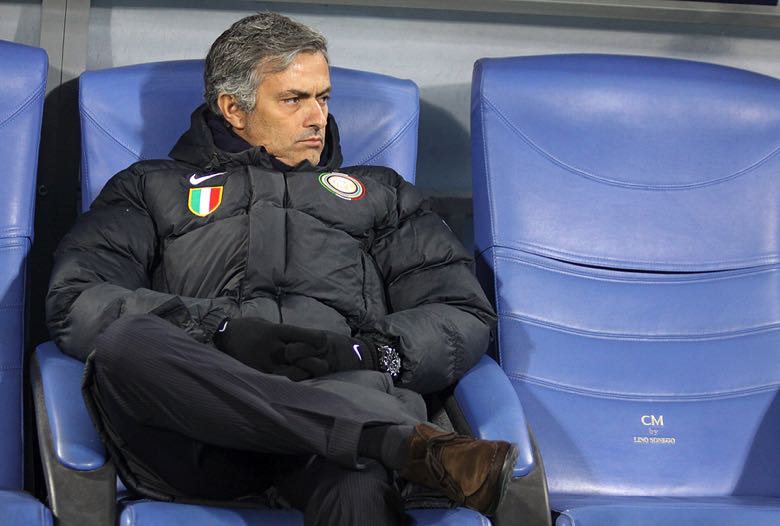 After announcing this crackdown on bad behaviour, the numbers of managers being booked or sent off continues to rise. In fact, during the 2022/23 Premier League season, 26 yellow cards were shown to head coaches plus seven reds – the worst campaign in history for managerial misbehaving.
Brighton's Roberto De Zerbi was sent off twice that term, while Fulham's Marco Silva was forced to sit out two touchline bans due to his repeat offending. Prior to the 2018 rule changes, managers could be sent off without actually being shown the red card – instead, the referee would simply wave them to the stands or into the tunnel with a flick of the wrist.
So, actually determining the manager with the most dismissals is difficult, although it's fair to say that Mourinho would surely be near the top-of-the-table for that particular accolade. Between August and November 2016 he was sent off twice as Manchester United boss, while during the 2022/23 season Mourinho was dismissed more times than any Serie A player while in charge of Roma – on three occasions, to be exact! The former Special One was also cautioned three times.
Alan Pardew is another former Premier League manager that would be in the running for the hall of shame. He was sent off at least three times during his career – most notably when headbutting Hull City's David Meyler in a tense North East derby back in 2014.