There are three parties involved in a football match that can have a direct outcome on the result: the players, managers/coaches and the officials. As we know, footballers are not allowed to bet on the sport – not even on fixtures they have no involvement in, and the same applies to managers, coaching staff and anybody construed to have 'inside information' on the beautiful game.
Unsurprisingly, referees and match officials are also banned from betting – imagine the controversy if it turned out they had placed a flutter or two on a game they, or a colleague, was officiating!
Can a Football Referee Bet?
In a move designed to protect the integrity of the sport, the English Football Association have banned all match officials – from those officiating in the Premier League right down to the top tiers of semi-professional football – from betting on any game taking place around the world.
The same goes for the top levels of women's football too, with the decision taken in order to remove any doubt about a referee's or an assistant referee's intentions. It goes without saying that match officials cannot bet on games of football, but that prohibition also extends to betting on player transfers, managerial sackings and any other markets that the bookmakers offer these days. For the record, footballers, managers and referees ARE allowed to bet on other sports without fear of sanctions.
Exception to the Rule
There is one exception to the above rule for those officiating in non-league football in England. The FA's rules state that any match official operating at Level 4 of the English football pyramid or below can bet on the sport, but only on games, leagues and competitions they have no direct involvement in.
No Participant can bet on a match or competition in which they are involved that season, or which they can influence, or any other football-related matter concerning the league that they play in … Participants are also prohibited from using or passing inside information for betting.
Have Any Referees Been Caught Betting on Football?
We've dug into the archives and cannot find any examples of referees and match officials being found guilty of betting on football. There are instances in which a referee has been bribed to fix games on behalf of shady gambling syndicates – more on that shortly, but as far as we know, no football referee in the Western world has been charged with having a flutter.
In English football, the only referee that has gotten into a scrape from a betting perspective is Mike Dean. He was involved in a horse racing syndicate, Arbitros, in 2005, and after the PGMO (Professional Game Match Officials) found out Dean was suspended from officiating for three months.
Interestingly, there was a case of a referee betting on games they were involved in – that was in the NBA. Tim Donaghy was one of the most trusted officials in basketball, having refereed more than 700 NBA games, but the FBI uncovered betslips that confirmed that Donaghy had bet on games he had refereed.
In some cases, investigators concluded he had made decisions in a manner which had a direct impact on the outcome of the games. Donaghy was jailed for 15 months, having wagered 'tens of thousands' on NBA point spread markets. It was alleged that he was working with the Mafia during the scandal.
Match Fixing + Betting = A Big No No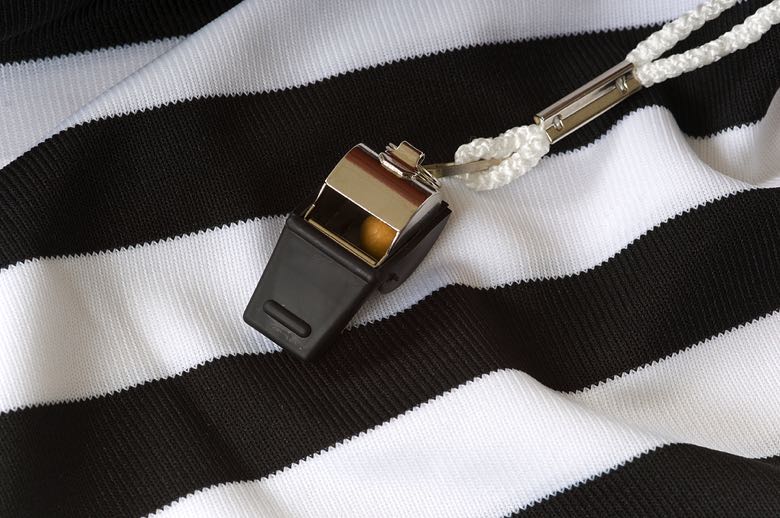 As mentioned, there thankfully hasn't been much to worry about with regards to referees betting on football. But there have been cases, and some not long ago it has to be said, where referees have agreed to 'fix' games to benefit gambling syndicates and other nefarious gangs.
You won't be surprised to learn that the English FA has a zero tolerance policy on such matters, with the highest-profile examples of match fixing by officials found on continental Europe. The FA has declared that any official that is caught fixing, or attempting to fix, a game by virtue of their decisions, or who passes on inside information to others, will be subject to a charge and a range of punishments that can include a lifetime ban.
UK criminal law allows the FA to interview officials on record, with the governing body also handed the power to request itemised phone bills, bank statements and betting account histories as part of their investigations.
While such instances are extremely rare in England, in Europe, sadly, the same cannot be said. In 2009, a joint investigation between UEFA, prosecutors and German police found that more than 200 games had been subject to match fixing – with potentially many more being rigged, as well. Those contests took place across nine different countries, and in some of the cases match officials were reportedly involved in fixing Champions League and Europa League games in the early qualifying rounds.
A criminal gang, who used their knowledge of rigged matches to bet accordingly, were thought to be behind the scandal, which saw 17 people arrested following raids on more than 50 properties across the continent. Nearly £1 million in cash and property was seized by authorities.
Robert Hoyzer
Four years prior to the 2009 bust, a German referee who officiated on games in the Bundesliga 2 was found to be at heart of a £1.8 million match fixing scandal. Robert Hoyzer allegedly met with a trio of Croatian brothers, who were part of an organised crime family whose schemes included a gambling syndicate. One of the known games he rigged was a German Cup clash between Hertha Berlin and Eintracht Braunschweig, which the latter won despite being a huge underdog with the bookies.
He also admitted to giving unjust penalties in a game between Paderborn and Hamburg in August 2004, before sending off a Hamburg player for dissent. The gambling syndicate won big, and so embarrassed were the German football authorities that they compensated Hamburg with €500,000 and promised them a chance to host a national team game at their Volksparkstadion home.
A handful of other games investigated were found to have been 'manipulated' by the awarding of dubious penalties, and in some instances those contests were replayed later in the season. Hoyzer and another referee, Dominik Marks, served prison sentences for fraud and were banned for life from football.
An official still approved by FIFA and UEFA to this day, Felix Zwayer, was banned from football for six months after accepting a bribe from Hoyzer – he would later turn whistle-blower to bring down the corruption.
Chinese Match Fixing Scandal (2003-2009)
Chinese referee, Lu Jun, was sentenced to five-and-a-half years in jail in 2010 after he was implicated in a major illegal gambling ring. Jun, who has refereed two World Cup games, took a catalogue of bribes and agreed to fix seven Chinese Premier League games between 2003 and 2009.
It turned out that the corruption went to the very top, with a number of Chinese Football Association officials jailed for their part in the scam. Shanghai Shenhua were also stripped of their 2013 Chinese Super League title.
The Whistle Mafia (2005)
Two referees in Brazil were implicated in betting fraud so widespread it even earned its own name: Mafia do Apito, or 'The Whistle Mafia'. Mobsters paid Edilson Pereira de Carvalho and Paulo Jose Danelon to fix two high-profile games in Brazil, although as many as 22 were investigated for potential corruption.
Eleven Brazilian National Championship games had their results annulled. Unsurprisingly, Carvalho and Danelon have been banned from refereeing for life, while a number of kingpins behind the plot were charged with crimes including fraud and conspiracy.