Betting and football has become an exceptionally popular combination, while the continued evolution of the internet means it has never been easier to place a bet on your favourite sport, team and player.
However, this has seen one too many sports people caught out when it comes to betting on sporting events. In this guide, we will take a look at whether players are allowed to bet on football matches, whether on their own or other games and more.
Can Footballers Bet on Football Matches?
The short answer is: no. The world of sport is a beautiful thing, but it has often been sullied by players choosing to bet on match events that they should not be wagering on. While this type of betting from a player could be similar to how the average bettor seeks to wager, by punting on a match they have nothing to do with, it can also be far more underhanded.
In Italy in particular, there have been times where there was match fixing in Italy's top leagues. We will go into this in greater detail later in this guide, but suffice to say, it put the integrity of the game under the spotlight as some of the best teams and players in Serie A were embroiled in potential match-fixing.
This is one of the major reasons why players are not allowed to bet on football matches. While there are some that would fancy having a flutter on a match that has nothing to do with them, there are others that would stretch any leniency on betting to the limit, before then breaking this limit.
Why Can't Footballers Bet on Their Own Matches?
While this one should be fairly obvious, it is worth looking at the reasons why footballers are not allowed to bet on their own games. If, for example, a defender was to bet big money on his side winning their game, then it stands to reason that they would do everything they can to ensure their side comes away with all three points. However, as a professional footballer that is being paid by the club, they should already be doing this and should not need the added incentive of winning big through a bet.
Manipulation of the Game
On the flip side of things, the same player could bet on his side to lose. What would happen then if his side were drawing 1-1 with a few minutes to go? It stands to reason that this defender would be inclined to try to contrive a situation where the opposition team score and win the game, so their bet still wins. Of course, this is particularly cynical, but if a player is willing to bet on an event in which they can have a big impact on, then it stands to reason that they could be dishonest with how they look to play.
This is why footballers betting on football is such a sketchy area. While footballers are the best of the best on the pitch, few would claim they are saints. This means that there could be players out there that are more inclined to line their own pockets than they are to fairly help their team towards success. Having control of the outcome of the game that a person has bet on provides too much power to that person.
What Rules Are There to Stop Players from Betting?
2014 saw the FA enforce a rule that prevented players from the top eight leagues in the English football league system from placing a bet an any time from anywhere in the world. Before this, the rules on betting were very lenient. Players were only banned from betting on the matches that their own team was involved in.
This was not a very good rule as, despite their team not being involved in the match, footballers could be privy to information on injuries or team news that could aid them in making their bets. This type of inside information gives an unfair advantage to those that have it over those that do not.
Players are also unable to partake in any action that could be seen as the passing of inside information. This includes transfer news, injuries or team news that is not yet public. Players will also be punished by the FA if they are found to be indirectly betting through their family and/or friends.
What Punishments Can a Player Get If Caught Betting?

This depends on the footballing association, league and team. For the Football Association in England, if a player is caught betting or match fixing, then the FA will likely interview the player and ask them to provide betting account statements, bank statements and itemised phone bills.
Financial Penalties & Suspensions
If the player is found guilty, then they can be penalised through financial penalties and suspensions, while they can even hand out lifetime bans. From a club's point of view, they could also look to hand out their own penalties, while there have been scenarios in world football where a club has terminated the contract of a player if they are found guilty of breaching betting laws.
Can Players Make Different Types of Bets?
For some footballers, the prospect of gambling a portion of their money is a past-time they enjoy. They can usually wager on horse racing or dogs, while betting at legitimate casinos can also be done.
The reason for this is because the players have no control over the outcome of events in these circumstances. This means that they can get involved with a game of cards or a day out at the races, but they should not bet on football.
Have Any Football Been Banned for Betting?
Yes, there are a number of high-profile examples of footballers being banned due to betting activity. These include:
Daniel Sturridge
The former-England, Chelsea and Liverpool forward was found guilty of breaching the betting rules after he was alleged to have passed on inside information regarding a potential transfer back in January 2018.
Sturridge was originally handed a six-week ban, but the FA then appealed against the findings and decided to impose a four-month ban against the playing of any professional football for any club. A £150,000 fine was also handed to the forward who saw his contract with Turkish side Trabzonspor terminated.
Joey Barton
Charged back in December 2016, the controversial midfielder was alleged to have placed a massive 1260 bets over a decade, with some of these wagers relating to his own teammates. This came alongside Barton leaving Rangers after being handed a one-match ban by the Scottish FA after breaking their own gambling rules. Barton was banned for 18 months in April 2017, with the former midfielder reportedly placing over 15,000 bets across a number of sports.
Wayne Shaw
This was one betting incident that originally seemed like an amusing turn of events, but it transpired that the whole thing had been orchestrated. Sutton United's reserve goalkeeper Wayne Shaw was seen to be eating a pie during his side's televised FA Cup clash with Arsenal.
The now defunct Sun Bets had been taking bets on a number of specials, with one such betting market allowing punters to wager on whether Shaw would be caught on camera eating a pie. Shaw eventually left Sutton United after the media storm that ensued. While he wouldn't have been seen as a professional footballer, this was another example of the football being besmirched by underhand activity.
Matt Le Tissier
Matt Le Tissier is a name many know for his wonderful goals on the pitch and amiable personality on Sky Sports' coverage of the weekend's football matches. However, he put himself in trouble by revealing in his autobiography that he was part of a failed spread betting sting with friends and a teammate during his career. The bets centred around the ball going out for a throw-in at a certain point in a match, with Le Tissier central to this.
Le Tissier claims he did not make any money from this as he failed to kick the ball out at the right time. The Crown Prosecution Service did look into this matter but did not take any further action.
Kieran Trippier
The current Newcastle right-back got himself into trouble by saying in a WhatsApp message to friends to 'Lump on if you want' as he was on the verge of a move to Spanish side Atletico Madrid. Trippier's friends decided to place bets on the defender moving to the Spanish side. The defender was handed a 10 week ban from football, fined £70,000 and forced to pay costs after a full FA Investigation.
Trippier did not actually personally benefit from this information and some felt he was harshly treated. This has led some to call for betting sites to stop providing transfer betting markets. Clearly, there has been a problem in football, with many well-known players either directly, or indirectly involved in betting. As mentioned, Trippier may have been harshly treated considering he did not benefit from the bets, while it was his friends that took it upon themselves to place those wagers.
What Was the Biggest Betting Scandal in Football?
This will change depending on who you ask, but most will agree that the 2011/12 Serie A match fixing scandal was the worst bout of betting in sport. The scandal itself emerged on June 1st, 2011, following the arrest of a number of figures in football that police believed were part of the scandal. A number of big names including Giuseppe Signori, Mauro Bressan, Stefano Bettarini and Cristiano Doni were all a part of the list of names that came out.
The inquiry began following a denunciation from Cremonese, a club in the Lega Pro Prima Divisione. The group was accused of fixing a huge range of matches in Serie B, Lega Pro Prima Divisione and Lega Pro Seconda Divisione. A number of clubs, including the likes of Atalanta, Hellas Verona and Benevento Calcio were handed either fines, deduction of points or both. For the people involved, most were given at least a ban of one year, with the biggest ban of five years going to the likes of Antonio Bellavista and Giorgio Buffone.
Why Do Players Bet?
Some players simply enjoy putting money on an event. In this regard, this urge is the same as an average bettor wanting to gamble. However, there are clear and obvious advantages to being able to have an impact on the game or being a professional footballer.
In some circumstances though, a player could be coerced or forced into taking part in match fixing, either through betting or being an involved player. This could be due to a player wanting to be involved, while a player could be forced through blackmail. The whole situation becomes very murky if they are being forced into playing a role in anything of this nature.
Can Players Be Trusted Not to Bet on Football?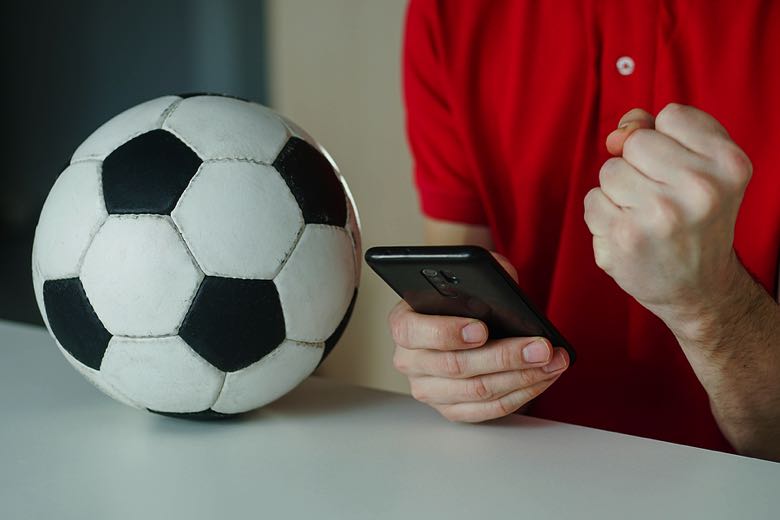 This is a question that is very difficult to answer. As mentioned, many saw Trippier as being harshly treated considering he did not directly place any bets or benefit from the wagers. However, becoming accidentally involved in betting is not all that common, with it seeming like more players purposefully bet. Whether this is because they want to use their knowledge of the game or because they can't help themselves is unclear, but either way, they should not bet on football if it has been banned.
Difficult to Stop Completely
In an ideal world, the people involved with matches and different sports would not bet on them. The fact they can have a major impact on the outcome of a betting market is an unfair advantage. However, it is difficult to stop players from betting on a game when there are also those above them, shown in some betting and match fixing scandals across a number of different sports, that often want to get involved with betting, with this sometimes seeing them putting pressure on, or working in tandem with players to see certain results of events forced to occur in a game.
Rules May Need to be Tightened
Unfortunately, there will likely always be those that want to bet on matches when they shouldn't. The average punter that has nothing to do with the game has every right to bet on sporting events as long as they hit the certain requirements in the country they are betting from. However, for players and those involved in the game, the laws have been set to try to deter those that might look to benefit themselves unfairly, although these betting rules may have to be tightened yet again in the future if more players betting or scandals are to come to light.