Not only he is a supremely talented footballer and a Scrabble player's dream, Dominik Szoboszlai also boasts a remarkable turn of pace. The Hungarian midfielder clocked 36.76kph (22.8mph) while turning out for Liverpool against Wolves in September 2023 – the second fastest speed ever generated by a Premier League player.
Incredibly, that speed was recorded just a matter of days after Dominic Solanke pushed the needle up to 36.1kph (22.4mph) in Bournemouth's defeat to Tottenham. That is remarkable pace across the ground, and yet neither Szoboszlai nor Solanke can lay claim to being the fastest player in the Premier League or anywhere close to it in the world of football.
Kyle Walker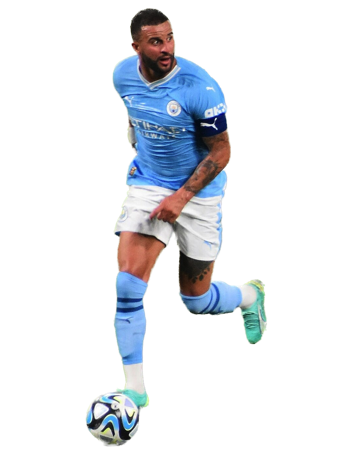 Nobody in Premier League history has recorded a pace as blink-and-you'll-miss-it as Kyle Walker. The Manchester City defender reached a top speed of 37.31kph during the 2022/23 season, which is a mind-blowing 23.1mph. Walker is, officially, the fastest player of the Premier League era, besting Szoboszlai, Solanke and the other top speedsters of the 2022/23 campaign, such as Brennan Johnson (36.7kph) and Mykhailo Mudryk (36.63kph).
Some of the speed tracking data appears to be debatable, but what's not up for discussion is Walker's status as the quickest in the Premier League – he bests former Chelsea defender Antonio Rudiger, who reached 36.72kph in a game against Brighton in December 2021.
Who Is the Fastest Footballer in the World?
Because not all football leagues around the world use tracking data, it's impossible to say definitively who is the fastest player on the planet. But judging by the stats from those leagues that do record the speeds travelled by their players, Walker could yet be a contender for the accolade. In Germany, the fastest player in the Bundesliga is routinely Bayern's rangy wing back, Alphonso Davies, who reached 36.53kph during 2022/23. However, that top pace was subsequently beaten by Dortmund's Karim Adeyemi, who scorched the turf at 36.65kph that same season.
As far as the Champions League is concerned, the fastest speed recorded in recent seasons was that of Davies, whose nickname of 'Roadrunner' really is apt given that he chalked up 37.1kph for the German champions in continental action in 2022. Others of note include Ousmane Dembele (36.6kph), Rafael Leao (36.5kph) and Gabriel Veron (36.4kph), but nobody can match the high set by Walker.
For context, when Usain Bolt smashed the 100m world record in 2009 he was clocked at an extraordinary 44.72kph, so there's still plenty of way to go before professional footballers can consider hanging up their boots and slipping into a pair of running spikes instead. Marcus Rashford, who Bolt has claimed is the only footballer capable of getting close to him in a 20-metre sprint, has recorded a best of 35.95kph.
Who Is the Fastest Footballer Ever?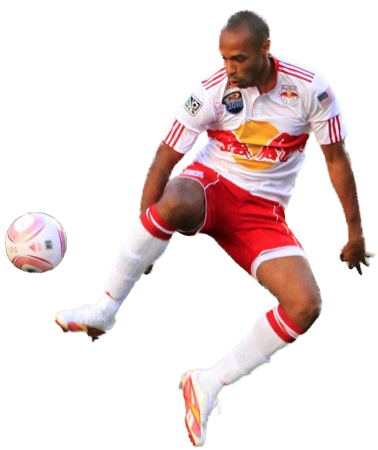 Unfortunately, there isn't a great deal of data for running speeds in the football archives, so we'll never know if a player from back in the day might have challenged Walker for the title. But of the information that is available from the modern era, the fastest footballer ever is somebody that will be very familiar to Arsenal supporters, who watched this individual zoom around the pitch for many successful years.
Thierry Henry is, debatably given the lack of data but nevertheless, the fastest footballer ever to step foot onto the pitch. The Frenchman once recorded a top pace of some 39.2kph, which is a mind-bending 24.3mph, and that has never been beaten as far as confirmed data is concerned. No wonder he was so difficult to stop when running with the ball during Arsenal's incredible Invincibles season…
The only other documented member of the 37kph club, as far as Europe's 'big five' leagues are concerned, is Arjen Robben, the flying winger who hit the heights for Chelsea and Bayern Munich. That said, Gareth Bale – at 36.9kph recorded while at Real Madrid – was certainly knocking on the door.
Who Would Win a Sprint Race in Football?
Wouldn't it be fascinating to get all of the fastest footballers together on the track and have them race over the 100m distance? It seems unlikely that would ever be possible given the physical rigours of the modern football season, but back in 1992 they had no such qualms about finding out once and for all who the fastest player in England was.
The Rumbelows Sprint Challenge, sponsored by the now defunct electronics retailer, saw the speediest players on two legs battle it out to see who was the fastest around. The players nominated took part in heats and then a final, dressed in the home shirt of their team and wearing their football boots for good measure.
The Rumbelows Sprint Challenge Final 1992 pic.twitter.com/WrSwLWav3O

— When Football Was Better (@FootballInT80s) November 18, 2018
As you can see, those involved took it incredibly seriously, with Swansea City's, John Williams, taking the spoils in a time of 11:49 – not too shabby at all for a non-professional sprinter over 100m. It would have been interesting to see what time Williams would have posted had his preparation been, erm, a little more professional ahead of the final – he admitted that he and Swans teammate, Jon Ford, had rather overindulged at a free bar the night before.
"I was paralytic," Williams recalls. "I think I ended up back in my room at 3am. I threw up, and the next thing I knew I was waking up in a bath. Jon was spraying me in the face with cold water, there was a shockwave and it drove me crazy. I started to attack him. Then I realised what was going on – he was shouting at me: 'We're late! We're late!" Eventually making it to Wembley Stadium on time, Williams won £10,000, a new TV and the title of fastest footballer in England for his troubles.