The aspiration of the vast majority of youngsters in football is to play the sport professionally – ideally for one of the biggest clubs in the world. There is a few different ways to achieve that aspiration. They may secure a contract with a professional academy, before being farmed out on loan to non-league and lower league clubs to gain experience.
Or, perhaps the most eye-catching talents may start off in non-league football, learning their craft and putting in performances so impressive that a professional club comes calling. But let's rewind for a moment: what is non-league football? Which clubs play in it? Are they professional or amateurs?
See Also: Do Non League Football Players Get Paid (And How Much)?
Non-League Football Definition
In England, there's the Premier League, the Championship and Leagues One and Two. These four divisions make up the top-tiers of the beautiful game – with the Championship and Leagues One and Two often labelled as the English Football League, EFL or FL72.
The system below these levels in known as non-league. The object of all non-league clubs is to secure promotion to the EFL and turn professional – although it should be said that, increasingly these days, some non-league sides can be classed as professional already in terms of how often their players are trained and how much they are paid. The general definition of non-league football is any game or competition staged outside of the Premier League and Football League as described above.
Why Is It Called Non-League If They Play in Leagues?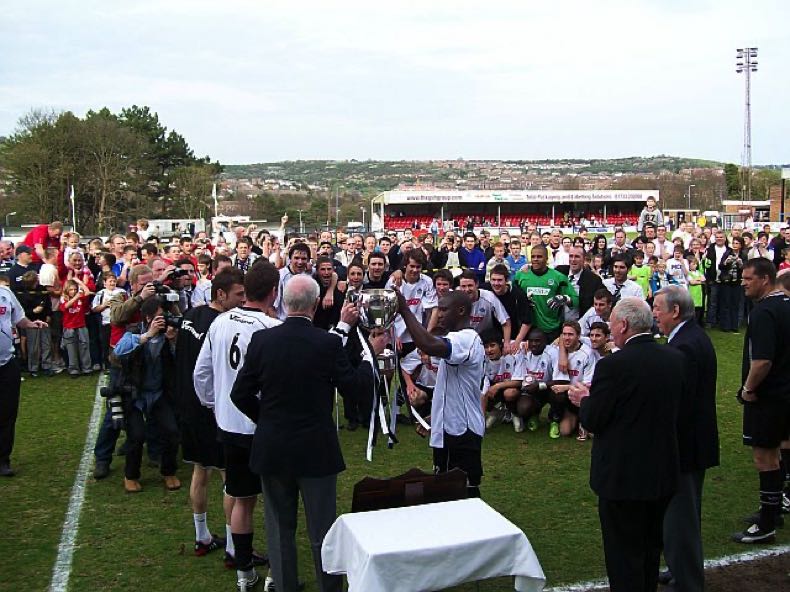 The term 'non league' is something of a misnomer, given that the competitions played at this level are very much contested on a league basis, i.e. the Vanarama National or the Isthmian League.
The phrase 'non league' has been used in the English game for a long time, and can probably be traced back to when the Football League was known colloquially as 'the League' – therefore, non-league could be used to describe any team and competition outside of its structure.
How Is Non-League Football Organised?
As in all football leagues around the world, the object for a club is to be promoted to the division above – either by winning their current league or finishing in second place/winning the play-offs (different leagues have their own unique conditions for promotion).
On the flipside, the main objective for other clubs is to simply avoid relegation – if they finish bottom of the league or within a certain number of places, they can be demoted to the division below. The same is true in non-league football, with the teams that finish in the bottom two of League Two relegated into the non-league structure while the best two sides in the Vanarama National, the top-tier of the non-league game, are promoted into League Two.
This democratic system of success and failure is a world away from the old way, in which the top teams in the non-league system would have to apply for membership of the Football League – the only way they could secure promotion. The worst-performing teams in what is now known as League Two would have to lobby for re-election against those from non-league.
Every other Football League club got a vote, and they routinely stuck together: re-electing their weakest members ahead of promoting a non-league outfit. Indeed, only thirteen non-league clubs were elected to the EFL in decades of trying. Thankfully, that archaic system was outlawed in 1986, when one place would switch hands between the worst team in the EFL and the best non-league side automatically, with no vote required. Since 2003, that has been extended to two places.
What Is the Structure of Non-League Football?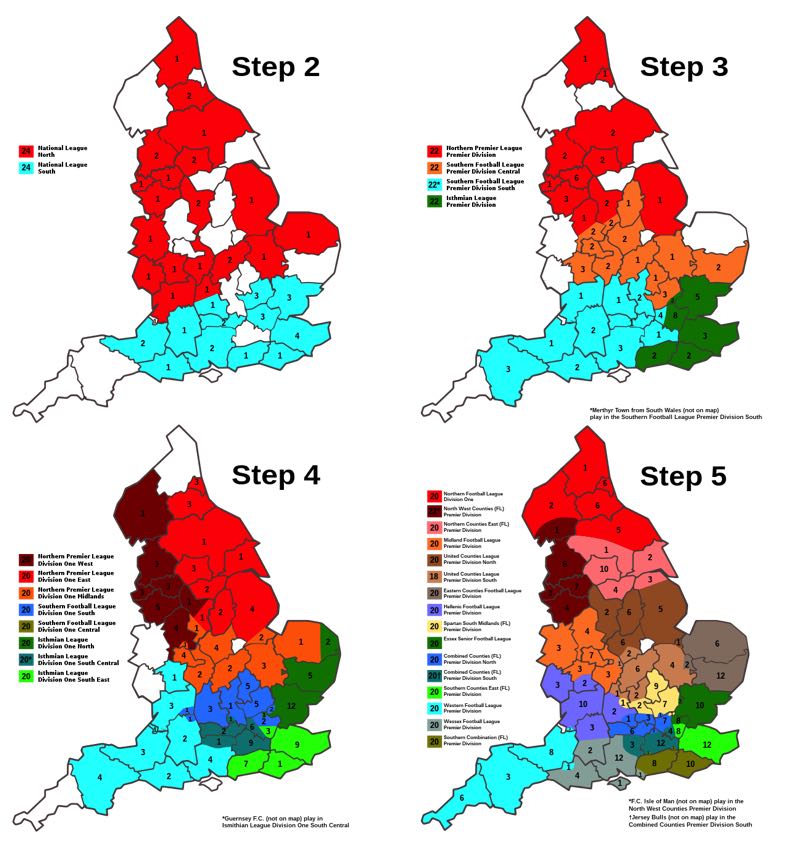 Non-league football in England is powered by a six-step system of promotions and relegations. The top-tier, step one, is the National League – the highest-level of the non-league system. That is fed into by step two, namely the National League North and National League South – a tier in which the best teams outside of the National League are split geographically.
Steps three and four sees further geographical splits across four main mini-league structures: Northern Premier League, Southern League Central, Southern League South and the Isthmian League. Steps five and six are made up a comprehensive network of local leagues from towns and cities across England.
Are Non-League Clubs Professional or Amateur?
There was a time when the distinction was straightforward: league clubs were professionally run and non-league clubs were amateur. Nowadays, there is so much money sloshing around in English football that many National League clubs are able to sustain themselves professionally – that is, by playing their players and coaching staff full-time salaries.
The goalposts have been moved yet further by some high-profile takeovers. Welsh club, Wrexham, were acquired by Hollywood actors, Ryan Reynolds and Rob McElhenney, back in 2021, and since then their wage bill has jumped astronomically – as high as £3.5 million a year, which is as high as it gets at non-league level. As of the 2022/23 season, it's thought that 21 of the 24 teams competing in the National League were professional.