Once upon a time, football mascots were simply colourful characters on the sidelines designed to entertain children (and young-hearted adults) and help to build a bond between fans and the club they support. But, in recent times, football mascots have become larger-than-life avatars that have made the back pages of the newspapers themselves – whether it's three little pigs fighting a wolf at Bristol City or a broken-hearted Tyrannosaurus Rex that has lost his job. More on those later.
Mascots were once just a token gesture – i.e. if your nickname is the 'Canaries', the design of your mascot pretty much takes care of itself. But some clubs have decided to go down a more esoteric route – Scottish outfit, Partick Thistle, hired prominent artist, David Shrigley, to come up with the idea for their mildly-terrifying mascot, 'Kingsley'. So, football mascots have taken on a life of their own. Here's your guide to the good, the bad and the downright ugly of this weird and wonderful sub-plot to the average football game.
What Is a Football Mascot?
A football mascot is – spoiler alert – a human being dressed up in (commonly) a furry animal outfit that depicts the club they represent. Other clubs use other mascots beyond the animal world, as long as the character has some kind of connection to the club in question – West Brom, for example, have a mascot called 'Boiler Man' (literally a giant boiler with legs) on account of their sponsorship deal with Ideal Heating. A ubiquitous presence on the touchline of your average football game, a mascot entertains fans of all ages and can even become part of club merchandise too.
What Does a Football Mascot Do?
In theory, a football mascot's duty is to help enhance the matchday experience of young fans, with parents and guardians enjoying blessed relief while the costumed character entertains their offspring. But the role of the football mascot has evolved to become something of a cheerleader, as well – you will often see mascots running up and down the touchline celebrating a goal, or encouraging the crowd to get behind their team at crucial times in a game.
These days, some football mascots have embodied the role of provocateur, as well. It's not uncommon to see them winding up opposition supporters with a few canny hand gestures or dance moves, and at times mascots have managed to interject themselves into the game itself.
In 2001, Bury's mascot Sir Robert Peel lowered his shorts in the direction of irate Stoke City supporters, while in 2016 the Watford mascot, Harry the Hornet, made the back pages when he mocked Crystal Palace's Wilfried Zaha by theatrically diving on the pitch in reference to the Ivory Coast star's perceived simulation.
The duties of the football mascot are low key compared to what their counterparts in America are up to. NBA and NFL mascots are required to perform all manner of stunts (such as jumping through flaming hoops) and skits, with Jazz Bear – the furry friend of Utah Jazz – suffering numerous serious injuries in the line of duty.
Does Every Football Club Have a Mascot?
According to our research, every single one of the 92 clubs that make up the English professional football pyramid has a mascot (as of February 2023). There's no rules forcing a club to have a mascot, so they don't have to have one if they don't, but a mascot is considered good PR and an all-important bridge built between fans and the club.
Football Mascots in the News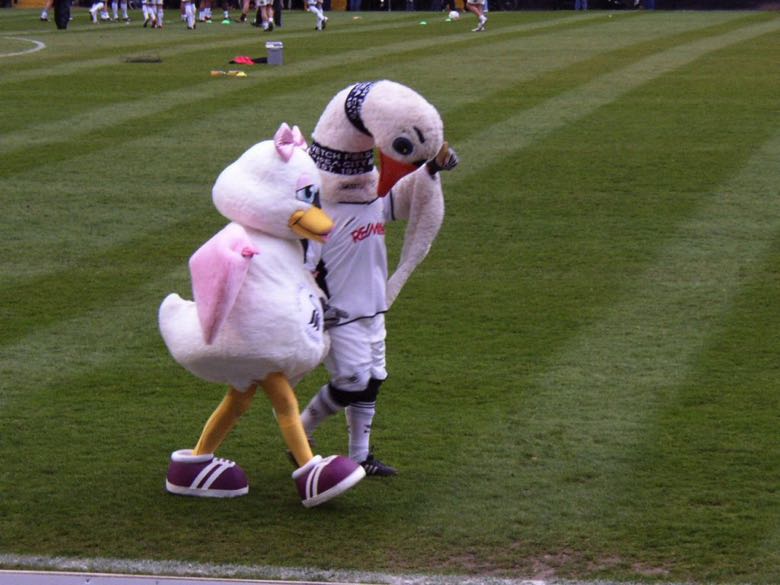 As already alluded to, some football mascots tear up the script of what makes for good 'mascotery' and instead choose to go rogue. Believe it or not, some clubs used to have live animals as their mascots – the occasional complications these brought, from unruly behaviour to excrement left on the pitch, was enough to convince many in the game that a furry friend less likely to relieve themselves on the playing surface might be a smarter direction to go in.
In the 1980s, the first human mascots in costume were introduced in English football, and by the middle of the next decade pretty much every club had a mascot of some kind prowling the touchline. It was all fun and games to start with, as mascots fulfilled their obligation to entertain young fans with cuddles, high fives and general hi-jinx. But soon, the rogue element would reveal themselves.
The Three Little Pigs & the Big Bad Wolf
In 1999, Bristol City were hosting Wolves at their Ashton Gate home. As fate would have it for those that enjoy a nursery rhyme, Wolves' mascot is, you guessed it, a wolf. As for Bristol City, their mascot was 'City Cat', but present on the day were three little pigs representing local firm, Coldseal. You can probably guess what happened next. A penalty shootout competition at half-time saw the quartet come to blows when the wolf tried to steal the ball of one of the pigs, with City Cat even caught up in the melee. The incident made headlines all over the world.
Cyril the Swan vs Zampa the Lion
Two years later, Cyril the Swan and Zampa the Lion – mascots of Swansea City and Millwall, respectively – also made international news when they had a tear-up on the pitch, with Cyril ending the fracas by ripping off Zampa's furry head and drop-kicking it into the stands.
Some Awkward Moments
Hartlepool United's H'Angus the Monkey was suspended after he, ahem, got personal with a blow-up doll at an away game in Blackpool, while Burnley's Bertie Bee was also swatted from a contest with QPR when he approached a beleaguered assistant referee and politely offered them use of a pair of spectacles.
In Scotland, football mascots don't do things by half either. St Mirren's cheeky scamp is Paisley the Panda, and in 2003, he incensed Falkirk supporters when he pretended to wipe his backside with one of the club's tracksuit tops in front of their fans. Paisley also went to the trouble of hanging a giant air freshener next to Morton fans at another game. As soon as they put on their furry heads and cross the white line, football mascots become just as revved up as the players and supporters!
The Mascot Grand National
Whoever came up with the idea deserves a medal. Line up as many as 100 football mascots on the start line of a UK racecourse – Huntingdon between 1999 and 2010 and Kempton Park in 2013 and 2012 – and watch them sprint and jump (admittedly over small hurdles) in a bid to become Mascot Grand National champion.
The race, which raised millions for charity, was fun to watch but those involved took it incredibly seriously – in 2010 many football mascots boycotted the race after a number of corporate and brand mascots were allowed to enter despite not being 'day in, day out' performers.
Three mascots – Oldham's Chaddy the Owl, Wacky Macky Bear of Saffron Walden FC and Barnet FC's Mr Bumble – all won the Mascot Grand National twice, while Barratt Homes', Barry Barratt, won the last ever edition in 2013. In 2000, two of the protagonists of this article – Cyril the Swan and Harry the Hornet – fought out a thrilling finale:
Sadly, the Mascot Grand National doesn't take place anymore, although a Mascot Gold Cup is run each year to help a number of different charities. In 2015, the Gold Cup broke the Guinness World Record for the largest ever mascot race with 125 cute costumed campaigners lining up at Wetherby Racecourse.