For mere mortals like the vast majority of the population, we go to work for a set hourly wager or annual salary and that's about the extent of our earning power. Some of us may earn performance-related bonuses or commission, but for the most part our earnings are capped until we get a pay rise, promotion or take a new job elsewhere. But for professional footballers, well, the world is their oyster when it comes to getting paid – for those at the top level, at least.
They get paid an annual salary, of course, but then there's bonuses for goals scored, clean sheets kept, competition performance and other perks. Then there's commercial partnerships with boot companies, other sponsorship agreements with sportswear, nutrition or tech firms, image rights…. the list is almost endless. In short, if you are a Premier League player – or ply your trade in the upper echelons of European football – you're not concerned with how you're going to pay your bills and put food on the table, put it that way.
How Much Does a Premier League Footballer Earn?
Of course, there's a huge differential between what a fringe player at a small Premier League club earns and the pay packet of a global superstar like Mo Salah. But with 2022/23 data permed from FBRef, we can calculate the average annual salary of the average Premier League footballer:
| Club | No. of Players | Annual Wage Bill | Avg. per Player |
| --- | --- | --- | --- |
| Arsenal | 23 | £85.49m | £3.72m |
| Aston Villa | 27 | £75.23m | £2.79m |
| Bournemouth | 27 | £32.04m | £1.19m |
| Brentford | 24 | £15.24m | £0.64m |
| Brighton | 23 | £28.34m | £1.23m |
| Chelsea | 25 | £169.72m | £6.79m |
| Crystal Palace | 24 | £59.18m | £2.47m |
| Everton | 27 | £43.12m | £1.60m |
| Fulham | 24 | £37.61m | £1.57m |
| Leeds Utd | 27 | £17.30m | £0.64m |
| Leicester City | 26 | £78.78m | £3.03m |
| Liverpool | 28 | £141.78m | £5.06m |
| Manchester City | 23 | £163.06m | £7.09m |
| Manchester Utd | 31 | £222.98m | £7.19m |
| Newcastle Utd | 28 | £62.61m | £2.24m |
| Nottingham Forest | 32 | £28.59m | £0.89m |
| Southampton | 24 | £35.38m | £1.47m |
| Tottenham | 25 | £101.34m | £4.05m |
| West Ham | 24 | £70.16m | £2.92m |
| Wolves | 25 | £38.31m | £1.53m |
Average Annual Salary of a Premier League Footballer = £2.9m
As you can see, the average Premier League footballer takes home around £2.9 million each year. For those interested, that works out at around £241,000 per month or £60,000 per week. Of course, the players on the highest salaries earn considerably more than that. While he was still playing for Manchester United, Cristiano Ronaldo was earning £515,000 per week – and that's before we even factor in all of the various commercial deals he has in place.
If you thought that was impressive, wait until you hear how much he gets paid for playing for Saudi Arabian team, Al-Nassr: a cool £3.6 million every single week! Of course, these are all pretty extreme examples. The Premier League is by far and away the highest-paying competition in world football, and so players employed elsewhere – for the most part – are unlikely to be paid such exorbitant sums.
Further down the footballing pyramid, the rates of pay drop-off significantly, and even in the Championship – the second-tier of English football – there's some players on around £750 per week. That's a decent wage by anybody's measure, but pro-rata that up to an annual salary and you get £39,000 pre-tax – not a great deal higher than the UK average.
Indeed, the average weekly wage for a full-time worker in the UK is £650, and when you factor in the physical sacrifices that a professional footballer has to make, for those playing outside of the elite the money earned perhaps isn't as extortionate as you might think.
How Much Do Footballers Make from Sponsorship Deals?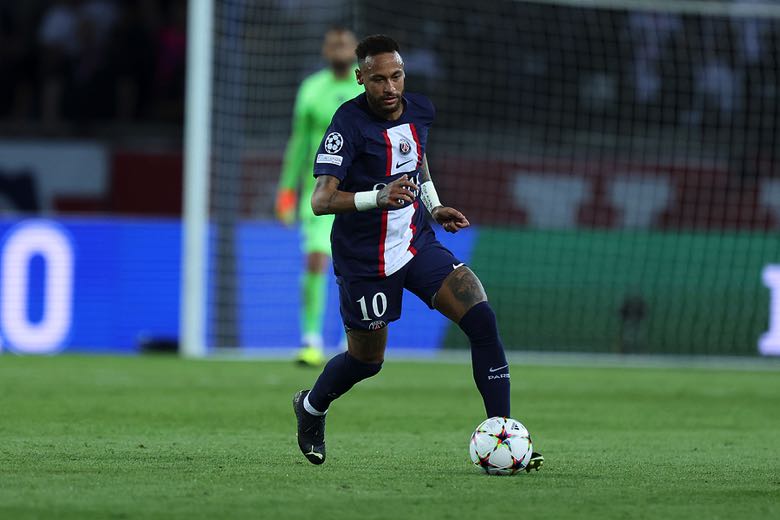 If you're a footballer with a global platform and are not particularly discerning about the brands you partner with, the world is your oyster when it comes to sponsorships and commercial agreements.
It's thought that Neymar, the PSG and Brazil forward, has at one time or another had more than 20 different sponsors on the go. Today he rakes in around £20 million a year from deals with the likes of Puma, Netflix, Red Bull and Qatar Airways – for context, that's 33% of his reported £60 million a year deal with the French club who, remember, actually pay him for the thing he's good at.
Boot Sponsorship
Neymar's off-field wealth is not that uncommon with players at the elite end of football, and yet it's a world away from the old days of 'boot money' – where players, in the days before professionalism and wages, would return to the changing rooms to find a wad of bank notes in their shoes in lieu of a salary.
It makes great business sense for a football boot manufacturer to get the biggest names in football to wear their brand. That way, a youngster will want to replicate their heroes, asking parents to buy the same pair – evidently, boot sponsorships are a way for both parties to prosper.
It's fascinating to see how boot deals have advanced over the years. Of course, inflation and football's own very unique economics are part of that, but it's clear that the battle to sign the most popular players is as fierce today as it's ever been.
Puma reportedly paid Pele $125,000 (£103,000) to wear their boots at the World Cup and for the rest of 1970 – that's around £1.3 million today, according to inflation. Given that the Brazilian legend is considered the best of all time by many, how does that boot deal stack up against modern payments.
Here's the five most lucrative boot sponsorship deals in football today:
#5 – Mario Balotelli (Puma, £5 million)
#4 – Kylian Mbappe (Nike, £14 million)
#3 – Cristiano Ronaldo (Nike, £15 million)
#2 – Lionel Messi (Nike, £18 million)
#1 – Neymar (Puma, £23 million)
As you can see, the best in the business today are earning ten times (or more) than Pele did, and even a player like Mario Balotelli – cast adrift in Turkish footballer – enjoys a better payday than the Brazilian master.
What Are Image Rights in Football?
As if those two revenue streams weren't enough for a professional footballer, there's a third way they can make money too. A top-flight football club has dozens of sponsors, who themselves want to leverage the unique branding that the most famous footballers can bring in advertising their products. A player can effectively sell their image rights to their club, which allows for their photograph, name, voice and autograph (amongst other things) to be used to promote the wares of commercial partners.
Usually, it's the players themselves that own their image rights, but sometimes their agent will take control of negotiations – it's not uncommon for image rights to be sold to third parties, believe or not, who believe they can then sell them for a profit later on down the line. According to reports, Paulo Dybala's proposed move from Juventus to Tottenham in 2019 was cancelled because Spurs would have had to pay £13.7 million to acquire the player's image rights from a third party, Star Image.
Whether it is selling their image rights, securing lucrative sponsorship deals or simply commanding a huge salary for their efforts on the pitch, there's many different ways that professional footballers can earn big and secure their place amongst what is one of the most well-paid career paths on the planet.